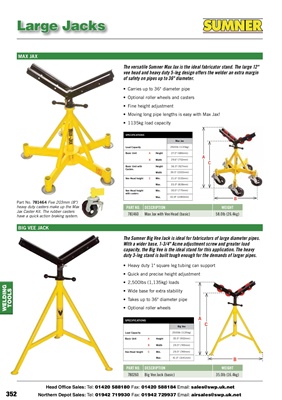 Head Office Sales: Tel: 01420 588180 Fax: 01420 588184 Email: sales@swp.uk.netttp://swp.uk.net" target="_blank" title="Visit swp.uk.net">swp.uk.netairsales@swp.uk.netpot Sales: Tel: 01942 719930 Fax: 01942 729937 Email: airsales@swp.uk.net
352
• Heavy duty 1" square leg tubing can support
• Quick and precise height adjustment
• 2,500lbs (1,135kg) loads
• Wide base for extra stability
• Takes up to 36" diameter pipe
• Optional roller wheels
PART NO. DESCRIPTION WEIGHT
780260 Big Vee Jack (basic) 35.0lb (16.4kg)
SPECIFICATIONS
Load Capacity
Big Vee
2500lb (1135kg)
Basic Unit A Height 35.5" (902mm)
B Width 29.5" (749mm)
Vee-Head height C Min. 29.5" (749mm)
Max. 41.0" (1041mm)
B
A C
BIG VEE JACK
The Sumner Big Vee Jack is ideal for fabricators of large diameter pipes.
With a wider base, 1-3/4" Acme adjustment screw and greater load
capacity, the Big Vee is the ideal stand for this application. The heavy
duty 3-leg stand is built tough enough for the demands of larger pipes.
The versatile Sumner Max Jax is the ideal fabricator stand. The large 12"
vee head and heavy duty 5-leg design offers the welder an extra margin
of safety on pipes up to 36" diameter.
• Carries up to 36" diameter pipe
• Optional roller wheels and casters
• Fine height adjustment
• Moving long pipe lengths is easy with Max Jax!
• 1135kg load capacity
PART NO. DESCRIPTION WEIGHT
781460 Max Jax with Vee Head (basic) 58.0lb (26.4kg)
SPECIFICATIONS
Load Capacity
Max Jax
2500lb (1135kg)
Basic Unit A Height 27.0" (686mm)
B Width 29.6" (752mm)
Basic Unit with
Casters
Height 36.5" (927mm)
Width 39.5" (1003mm)
Vee-Head height C Min. 21.0" (533mm)
Max. 33.0" (838mm)
Vee-Head height
with casters
Min. 30.5" (775mm)
Max. 42.8" (1080mm)
MAX JAX
Part No. 781464 Five 203mm (8")
heavy duty casters make up the Max
Jax Caster Kit. The rubber casters
have a quick action braking system.
B
A C
WELDING
TOOLS
Large Jacks