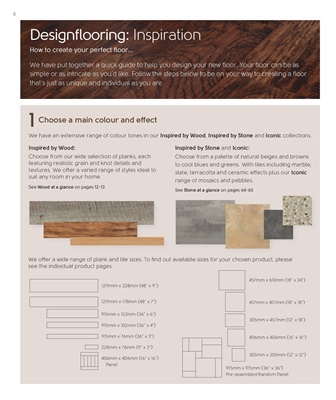 8
Designflooring: Inspiration
How to create your perfect floor...
We have put together a quick guide to help you design your new floor. Your floor can be as
simple or as intricate as you'd like. Follow the steps below to be on your way to creating a floor
that's just as unique and individual as you are.
1 Choose a main colour and effect
We have an extensive range of colour tones in our Inspired by Wood, Inspired by Stone and Iconic collections.
Inspired by Wood: Inspired by Stone and Iconic:
Choose from our wide selection of planks, each Choose from a palette of natural beiges and browns
featuring realistic grain and knot details and to cool blues and greens. With tiles including marble,
textures. We offer a varied range of styles ideal to slate, terracotta and ceramic effects plus our Iconic
suit any room in your home.
range of mosaics and pebbles.
See Wood at a glance on pages 12-13
See Stone at a glance on pages 64-65
We offer a wide range of plank and tile sizes. To find out available sizes for your chosen product, please
see the individual product pages.
457mm x 610mm (18" x 24")
1219mm x 228mm (48" x 9")
1219mm x 178mm (48" x 7") 457mm x 457mm (18" x 18")
915mm x 152mm (36" x 6")
305mm x 457mm (12" x 18")
915mm x 102mm (36" x 4")
915mm x 76mm (36" x 3") 406mm x 406mm (16" x 16")
228mm x 76mm (9" x 3")
305mm x 305mm (12" x 12")
406mm x 406mm (16" x 16")
Panel
915mm x 915mm (36" x 36")
Pre-assembled Random Panel