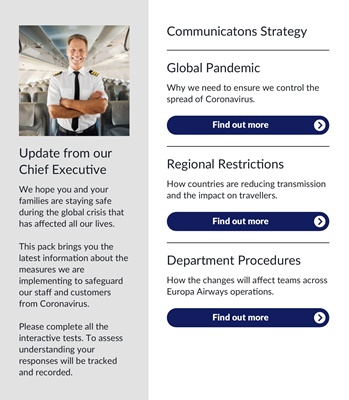 Find out more
Department Procedures
How the changes will affect teams across
Europa Airways operaঞons.
Find out more
Regional Restricঞons
How countries are reducing transmission
and the impact on travellers.
Find out more
Global Pandemic
Why we need to ensure we control the
spread of Coronavirus.
Communicatons Strategy
Update from our
Chief Execuঞve
We hope you and your
fanilies are staying safe
during the global crisis that
has affected all our lives.
This pack brings you latest
informaঞon about the
measures we are
implemenঞng to safeguard
our staff and customers
from Coronavirus.
Please complete all the
interacঞve tests. To assess
undrstanding your
responses will be tracked
and recorded.