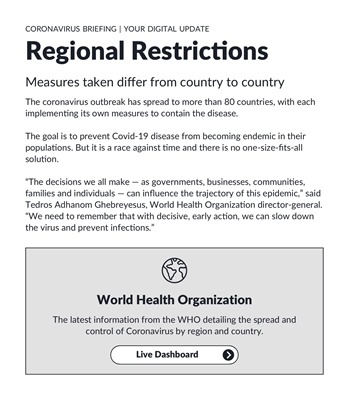 Regional Restricঞons
Measures taken differ from country to country
The coronavirus outbreak has spread to more than 80 countries, with each
implemenঞng its own measures to contain the disease.
The goal is to prevent the Covid-19 disease from becoming endemic in their
populaঞons. But it is a race against ঞme and there is no one-size-fits-all
soluঞon.
"The decisions we all make - as governments, businesses, communiঞes,
families and individuals - can influence the trajectory of this epidemic," said
Tedros Adhanom Ghebreyesus, World Health Organizaঞon director-general.
"We need to remember that with decisive, early acঞon, we can slow down
the virus and prevent infecঞons."
CORONAVIRUS BRIEFING | YOUR DIGITAL UPDATE
World Health Organization
Latest information from the WHO detailing the spread and control
of Coronavirus by region and country.
Live Dashboard