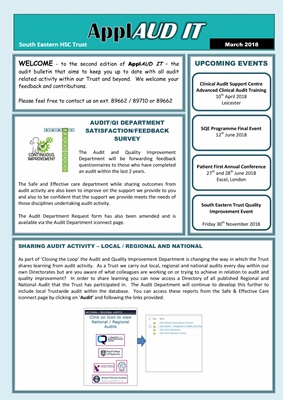 AUDIT/QI DEPARTMENT
SATISFACTION/FEEDBACK
SURVEY
The Audit and Quality Improvement
Department will be forwarding feedback
questionnaires to those who have completed
an audit within the last 2 years.
The Safe and Effective care department while sharing outcomes from
audit activity are also keen to improve on the support we provide to you
and also to be confident that the support we provide meets the needs of
those disciplines undertaking audit activity.
The Audit Department Request form has also been amended and is
available via the Audit Department iconnect page.
SHARING AUDIT ACTIVITY - LOCAL / REGIONAL AND NATIONAL
As part of 'Closing the Loop' the Audit and Quality Improvement Department is changing the way in which the Trust
shares learning from audit activity. As a Trust we carry out local, regional and national audits every day within our
own Directorates but are you aware of what colleagues are working on or trying to achieve in relation to audit and
quality improvement? In order to share learning you can now access a Directory of all published Regional and
National Audit that the Trust has participated in. The Audit Department will continue to develop this further to
include local Trustwide audit within the database. You can access these reports from the Safe & Effective Care
iconnect page by clicking on 'Audit' and following the links provided.
UPCOMING EVENTS
Clinical Audit Support Centre
Advanced Clinical Audit Training
10
th April 2018
Leicester
SQE Programme Final Event
12
th June 2018
Patient First Annual Conference
27
th
and 28th
June 2018
Excel, London
South Eastern Trust Quality
Improvement Event
Friday 30th November 2018
WELCOME - to the second edition of ApplAUD IT - the
audit bulletin that aims to keep you up to date with all audit
related activity within our Trust and beyond. We welcome your
feedback and contributions.
Please feel free to contact us on ext. 89662 / 89710 or 89662
March 2018