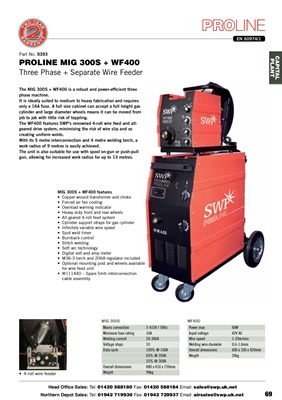 Head Office Sales: Tel: 01420 588180 Fax: 01420 588184 Email: sales@swp.uk.netttp://swp.uk.net" target="_blank" title="Visit swp.uk.net">swp.uk.netairsales@swp.uk.netpot Sales: Tel: 01942 719930 Fax: 01942 729937 Email: airsales@swp.uk.net 69CAPITAL
PLANT
EN 60974/1
MIG 300S + WF400 features
• Copper wound transformer and choke
• Forced air fan cooling
• Overload warning indicator
• Heavy duty front and rear wheels
• All geared 4-roll feed system
• Cylinder support straps for gas cylinder
• Infinitely variable wire speed
• Spot weld timer
• Burnback control
• Stitch welding
• Soft arc technology
• Digital volt and amp meter
• M36-3 torch and 2068 regulator included
• Optional mounting post and wheels available
for wire feed unit
• W111440 - Spare 5mtr interconnection
cable assembly
Part No. 9393
PROLINE MIG 300S + WF400
Three Phase + Separate Wire Feeder
The MIG 300S + WF400 is a robust and power-efficient three
phase machine.
It is ideally suited to medium to heavy fabrication and requires
only a 16A fuse. A full size cabinet can accept a full height gas
cylinder and large diameter wheels means it can be moved from
job to job with little risk of toppling.
The WF400 features SWP's renowned 4-roll wire feed and allgeared drive system, minimising the risk of wire slip and so
creating uniform welds.
With its 5 metre interconnection and 4 metre welding torch, a
work radius of 9 metres is easily achieved.
The unit is also suitable for use with spool on-gun or push-pull
gun, allowing for increased work radius for up to 13 metres.
MIG 300S
Mains connection 3-415V / 50Hz
Fuse 16A
Welding Current 30-300A
Voltage steps 10
Duty Cycle 100% @ 160A
60% @ 200A
35% @ 300A
Overall dimensions 880 x 410 x 720mm
Weight 98kg
WF400
Power max 60W
Input voltage 42V AC
Wire Speed 1-20m/min
Welding wire diameter 0.6-1.6mm
Overall dimensions 600 x 330 x 420mm
Weight 20kg
• 4-roll wire feeder