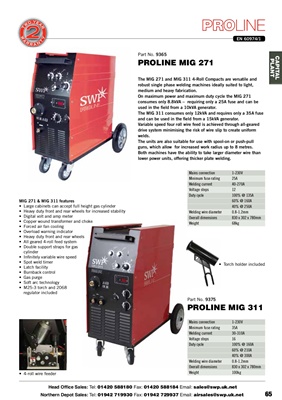 Head Office Sales: Tel: 01420 588180 Fax: 01420 588184 Email: sales@swp.uk.netttp://swp.uk.net" target="_blank" title="Visit swp.uk.net">swp.uk.netairsales@swp.uk.netpot Sales: Tel: 01942 719930 Fax: 01942 729937 Email: airsales@swp.uk.net 65CAPITAL
PLANT
EN 60974/1
The MIG 271 and MIG 311 4-Roll Compacts are versatile and
robust single phase welding machines ideally suited to light,
medium and heavy fabrication.
On maximum power and maximum duty cycle the MIG 271
consumes only 8.8kVA - requiring only a 25A fuse and can be
used in the field from a 10kVA generator.
The MIG 311 consumes only 12kVA and requires only a 35A fuse
and can be used in the field from a 15kVA generator.
Variable speed four roll wire feed is achieved through all-geared
drive system minimising the risk of wire slip to create uniform
welds.
The units are also suitable for use with spool-on or push-pull
guns, which allow for increased work radius up to 8 metres.
Both machines have the ability to take larger diameter wire than
lower power units, offering thicker plate welding.
MIG 271 & MIG 311 features
• Large cabinets can accept full height gas cylinder
• Heavy duty front and rear wheels for increased stability
• Digital volt and amp meter
• Copper wound transformer and choke
• Forced air fan cooling
• Overload warning indicator
• Heavy duty front and rear wheels
• All geared 4-roll feed system
• Double support straps for gas
cylinder
• Infinitely variable wire speed
• Spot weld timer
• Latch facility
• Burnback control
• Gas purge
• Soft arc technology
• M25-3 torch and 2068
regulator included
Part No. 9365
PROLINE MIG 271
Part No. 9375
PROLINE MIG 311
Mains connection 1-230V
Fuse 25A
Welding Current 40-270A
Voltage steps 12
Duty Cycle 100% @ 135A
60% @ 160A
40% @ 250A
Welding wire diameter 0.8-1.2mm
Overall dimensions 830 x 302 x 780mm
Weight 68kg
Mains connection 1-230V
Fuse 35A
Welding Current 30-310A
Voltage steps 16
Duty Cycle 100% @ 160A
60% @ 210A
40% @ 300A
Welding wire diameter 0.8-1.2mm
Overall dimensions 830 x 302 x 780mm
Weight 100kg
• Torch holder included
• 4-roll wire feeder