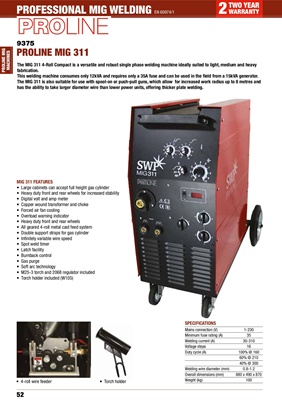 The MIG 311 4-Roll Compact is a versatile and robust single phase welding machine ideally suited to light, medium and heavy
fabrication.
This welding machine consumes only 12kVA and requires only a 35A fuse and can be used in the field from a 15kVA generator.
The MIG 311 is also suitable for use with spool-on or push-pull guns, which allow for increased work radius up to 8 metres and
has the ability to take larger diameter wire than lower power units, offering thicker plate welding.
MIG 311 FEATURES
• Large cabinets can accept full height gas cylinder
• Heavy duty front and rear wheels for increased stability
• Digital volt and amp meter
• Copper wound transformer and choke
• Forced air fan cooling
• Overload warning indicator
• Heavy duty front and rear wheels
• All geared 4-roll metal cast feed system
• Double support straps for gas cylinder
• Infinitely variable wire speed
• Spot weld timer
• Latch facility
• Burnback control
• Gas purge
• Soft arc technology
• M25-3 torch and 2068 regulator included
• Torch holder included (W105)
9375
PROLINE MIG 311
Mains connection (V) 1-230
Minimum fuse rating (A) 35
Welding current (A) 30-310
Voltage steps 16
Duty cycle (A) 100% @ 160
60% @ 210
40% @ 300
Welding wire diameter (mm) 0.8-1.2
Overall dimensions (mm) 880 x 490 x 870
Weight (kg) 100
SPECIFICATIONS
52
• Torch holder
• 4-roll wire feeder
PROFESSIONAL MIG WELDING EN 60974/1
TWO YEAR
WARRANTY2
PROLINE MIG
MACHINES