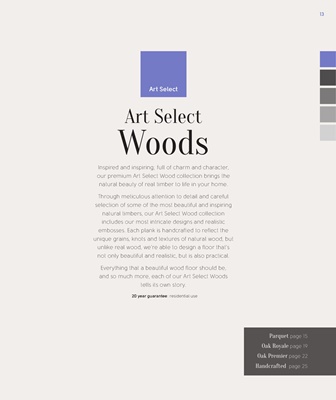 13
Art Select
Parquet page 15
Oak Royale page 19
Oak Premier page 22
Handcrafted page 25
Inspired and inspiring; full of charm and character,
our premium Art Select Wood collection brings the
natural beauty of real timber to life in your home.
Through meticulous attention to detail and careful
selection of some of the most beautiful and inspiring
natural timbers, our Art Select Wood collection
includes our most intricate designs and realistic
embosses. Each plank is handcrafted to reflect the
unique grains, knots and textures of natural wood, but
unlike real wood, we're able to design a floor that's
not only beautiful and realistic, but is also practical.
Everything that a beautiful wood floor should be,
and so much more, each of our Art Select Woods
tells its own story.
Art Select
Woods
20 year guarantee: residential use