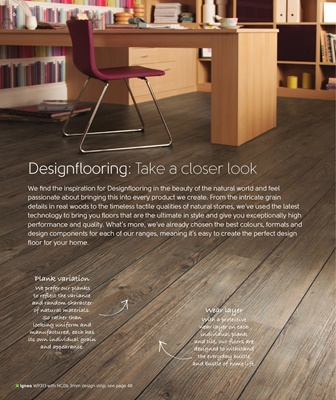 Wear layer
With a protective
wear layer on each
individual plank
and tile, our loors are
designed to withstand
the everyday hustle
and bustle of home life.
Plank variation
We prefer our planks
to relect the variance
and random character
of natural materials.
So rather than
looking uniform and
manufactured, each has
its own individual grain
and appearance.
We find the inspiration for Designflooring in the beauty of the natural world and feel
passionate about bringing this into every product we create. From the intricate grain
details in real woods to the timeless tactile qualities of natural stones, we've used the latest
technology to bring you floors that are the ultimate in style and give you exceptionally high
performance and quality. What's more, we've already chosen the best colours, formats and
design components for each of our ranges, meaning it's easy to create the perfect design
floor for your home.
Designflooring: Take a closer look
Ignea WP313 with HC06 3mm design strip, see page 48
6