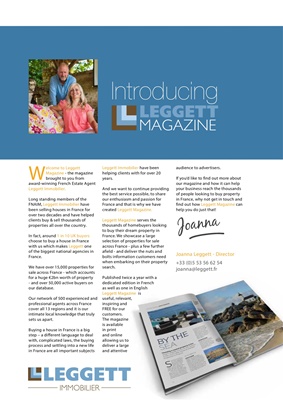 Welcome to Leggett
Magazine - the magazine
brought to you from
award-winning French Estate Agent
Leggett Immobilier.
Long standing members of the
FNAIM, Leggett Immobilier have
been selling houses in France for
over two decades and have helped
clients buy & sell thousands of
properties all over the country.
In fact, around 1 in 10 UK buyers
choose to buy a house in France
with us which makes Leggett one
of the biggest national agencies in
France.
We have over 16,000 properties for
sale across France - which accounts
for a huge €2bn worth of property
- and over 30,000 active buyers on
our database.
Our network of 500 experienced
and professional agents across
France cover 16 regions and it is our
intimate local knowledge that truly
sets us apart.
Buying a house in France is a big
step - a different language to deal
with, complicated laws, the buying
process and settling into a new life
in France are all important subjects
Leggett Immobilier have been
helping clients with for over 20
years.
And we want to continue providing
the best service possible, to share
our enthusiasm and passion for
France and that is why we have
launched Leggett Magazine.
Leggett Magazine serves the
thousands of homebuyers looking
to buy their dream property in
France. We showcase a large
selection of properties for sale
across France - plus a few further
afield - and deliver the nuts and
bolts information customers need
when embarking on their property
search.
Published twice a year with a
dedicated edition in French
as well as one in English
Leggett Magazine is
useful, relevant,
inspiring and
FREE for our
customers.
The magazine
is available
in print
and online
allowing us to
deliver a large
and attentive
audience to advertisers.
If you'd like to find out more about
our magazine and how it can help
your business reach the thousands
of people looking to buy property
in France, why not get in touch and
find out how Leggett Magazine can
help you do just that!
Joanna Leggett - Director
+33 (0)5 53 56 62 54
Introducing
LEGGETT
MAGAZINE
Joanna
LEGGETTIMMOBILIER