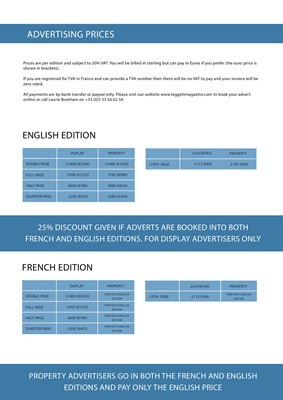 Prices are per edition and subject to 20% VAT. You will be billed in sterling but can pay in Euros if you prefer (the euro price is
shown in brackets).
If you are registered for TVA in France and can provide a TVA number then there will be no VAT to pay and your invoice will be
zero rated.
All payments are by bank transfer or paypal only. Please visit our website www.leggettmagazine.com to book your advert
online or call Laura Shannon on +33 (0)5 53 56 62 54.
PROPERTY
DISPLAY
DOUBLE PAGE
FULL PAGE
HALF PAGE
QUARTER PAGE
£1800 (€2340)
£760 (€988)
£950 (€1235)
£1480 (€1924)
£600 (€780) £480 (€624)
£280 (€364)
£350 (€455)
DISPLAY PROPERTY
ADVERTISING PRICES
ENGLISH EDITION
DISPLAY
1/9TH PAGE
PROPERTY
PROPERTY
DISPLAY
DOUBLE PAGE
FULL PAGE
HALF PAGE
QUARTER PAGE
DISPLAY PROPERTY
FRENCH EDITION
DISPLAY
1/9TH PAGE £112 (€99)
CLASSIFIED
25% DISCOUNT GIVEN IF ADVERTS ARE BOOKED INTO BOTH
FRENCH AND ENGLISH EDITIONS. FOR DISPLAY ADVERTISERS ONLY
£102 (€90)
£1800 (€2340)
FREE WITH ENGLISH
EDITION
£950 (€1235)
£600 (€780)
£350 (€455)
PROPERTY ADVERTISERS GO IN BOTH THE FRENCH AND ENGLISH
EDITIONS AND PAY ONLY THE ENGLISH PRICE
FREE WITH ENGLISH
EDITION
FREE WITH ENGLISH
EDITION
FREE WITH ENGLISH
EDITION
CLASSIFIED
£112 (€99)
PROPERTY
FREE WITH ENGLISH
EDITION