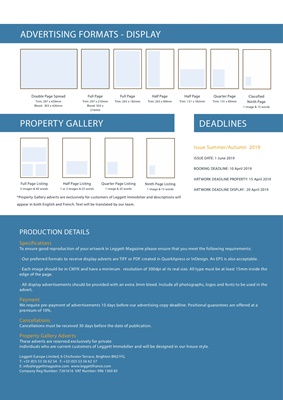 PRODUCTION DETAILS
Specifications
To ensure good reproduction of your artwork in Leggett Magazine please ensure that you meet the following requirements:
• Our preferred formats to receive display adverts are TIFF or PDF created in QuarkXpress or InDesign. An EPS is also acceptable.
• Each image should be in CMYK and have a minimum resolution of 300dpi at its real size. All type must be at least 15mm inside the
edge of the page.
• All display advertisements should be provided with an extra 3mm bleed. Include all photographs, logos and fonts to be used in the
advert.
Payment
We require pre-payment of advertisements 10 days before our advertising copy deadline. Positional guarantees are offered at a
premium of 10%.
Cancellations
Cancellations must be received 30 days before the date of publication.
Property Gallery Adverts
These adverts are reserved exclusively for private
individuals who are current customers of Leggett Immobilier and will be designed in our house style.
Issue Summer/Autumn 2018
ISSUE DATE: 5 July 2018
BOOKING DEADLINE: 28 May 2018
ARTWORK DEADLINE PROPERTY: 6 June 2018
ARTWORK DEADLINE DISPLAY: 6 June 2018
Double Page Spread
Trim: 297 x 420mm
Bleed: 303 x 426mm
Full Page
Trim: 297 x 210mm
Bleed: 303 x
216mm
Full Page
Trim: 265 x 182mm
Half Page
Trim: 265 x 89mm
Half Page
Trim: 131 x 182mm
Quarter Page
Trim: 131 x 89mm
ADVERTISING FORMATS - DISPLAY
PROPERTY GALLERY
Full Page Listing
3 images & 40 words
Half Page Listing
1 or 2 images & 25 words
Quarter Page Listing
1 image & 25 words
*Property Gallery adverts are exclusively for customers of Leggett Immobilier and descriptions will
appear in both English and French. Text will be translated by our team.
Leggett Europe Limited, 6 Chichester Terrace, Brighton BN21FG.
T: +33 (0)5 53 56 62 54 F: +33 (0)5 53 56 62 57
E: info@leggettmagazine.com www.leggettfrance.com
Company Reg Number: 7261616 VAT Number: 996 1360 85
DEADLINES
Ninth Page Listing
1 image & 15 words
Classified
Ninth Page
1 image & 15 words