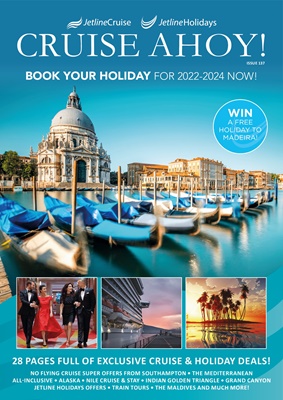 WIN
A FREE
HOLIDAY TO
MADEIRA!
CRUISE AHOY!ISSUE 137
BOOK YOUR HOLIDAY FOR 2022-2024 NOW!
28 PAGES FULL OF EXCLUSIVE CRUISE & HOLIDAY DEALS!
NO FLYING CRUISE SUPER OFFERS FROM SOUTHAMPTON • THE MEDITERRANEAN
ALL-INCLUSIVE • ALASKA • NILE CRUISE & STAY • INDIAN GOLDEN TRIANGLE • GRAND CANYON
JETLINE HOLIDAYS OFFERS • TRAIN TOURS • THE MALDIVES AND MUCH MORE!
WIN
A FREE
HOLIDAY TO
MADEIRA!