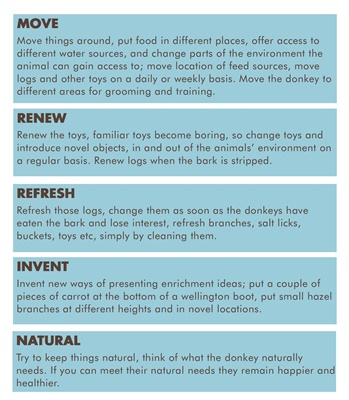 MOVEMOVEMOVEMOVE
Move things around, put food in different places, access to different
water sources, and change the parts of the environment the animal
can gain access to. Move location of feed scources, move logs and
other toys on a daily or weekly basis. Move to different areas for
grooming and training.
RENEWRENEWRENEWRENEW
Renew the toys, just like children familiar toys become boring,
change toys, and introduce novel objects, in and out of the
animals' environment on a regular basis.
REFRESHREFRESHREFRESHREFRESH
Refresh those logs, change them as soon as the donkeys have
eaten the bark and lose interest, refresh branches, salt licks,
buckets, toys etc, simply by cleaning them.
INVENTINVENTINVENTINVENT
invent new ways of presenting enrichment ideas. Put a couple of
pieces of carrot at the bottom of that welling boot, hide small
pieces of apple in the straw, put small hazel branches at
NATURAL
NATURAL
NATURAL
NATURAL
Try to keep things natural, think of what the donkey naturally
needs. If you can meet their natural needs they remain happier and
healthier.