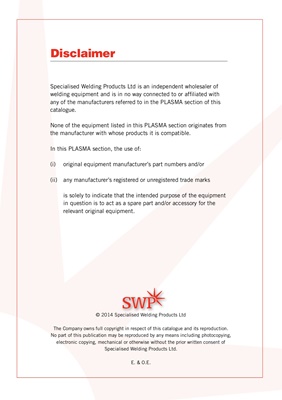 Disclaimer
Specialised Welding Products Ltd is an independent wholesaler of
welding equipment and is in no way connected to or affiliated with
any of the manufacturers referred to in the PLASMA section of this
catalogue.
None of the equipment listed in this PLASMA section originates from
the manufacturer with whose products it is compatible.
In this PLASMA section, the use of:
(i) original equipment manufacturer's part numbers and/or
(ii) any manufacturer's registered or unregistered trade marks
is solely to indicate that the intended purpose of the equipment
in question is to act as a spare part and/or accessory for the
relevant original equipment.
© 2014 Specialised Welding Products Ltd
The Company owns full copyright in respect of this catalogue and its reproduction.
No part of this publication may be reproduced by any means including photocopying,
electronic copying, mechanical or otherwise without the prior written consent of
Specialised Welding Products Ltd.
E. & O.E.