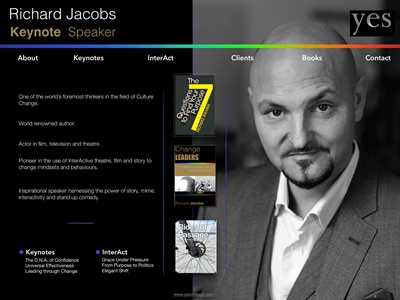 One of the world's foremost thinkers in the field of Culture
Change.
Contact
InterAct
Keynotes Books
Clients
Richard Jacobs
Keynote Speaker
• InterAct
Grace Under Pressure
From Purpose to Politics
Elegant Shift
• Keynotes
The D.N.A. of Confidence
Universal Effectiveness
Leading through Change
World renowned author.
Actor in film, television and theatre.
Pioneer in the use of InterActive theatre, film and story to
change mindsets and behaviours.
Inspirational speaker harnessing the power of story, mime,
interactivity and stand up comedy.
About