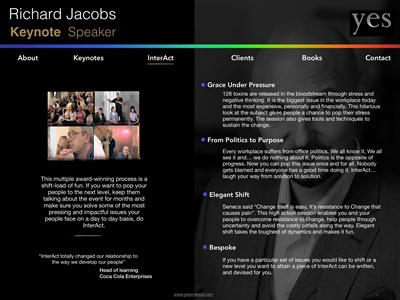 This multiple award-winning process is a
shift-load of fun. If you want to pop your
people to the next level, keep them
talking about the event for months and
make sure you solve some of the most
pressing and impactful issues your
people face on a day to day basis, do
InterAct.
If you have a particular set of issues you would like to shift or a
new level you want to attain a piece of InterAct can be written,
and devised for you.
• Bespoke
• From Politics to Purpose
• Grace Under Pressure
• Elegant Shift
128 toxins are released in the bloodstream through stress and
negative thinking. It is the biggest issue in the workplace today
and the most expensive, personally and financially. This hilarious
look at the subject gives people a chance to pop their stress
permanently. The session also gives tools and techniques to
sustain the change.
Every workplace suffers from office politics. We all know it, We all
see it and… we do nothing about it. Politics is the opposite of
progress. Now you can pop this issue once and for all. Nobody
gets blamed and everyone has a good time doing it. InterAct…
laugh your way from solution to solution.
Seneca said "Change itself is easy, It's resistance to Change that
causes pain". This high action session enables you and your
people to overcome resistance to change, help people through
uncertainty and avoid the costly pitfalls along the way. Elegant
shift takes the toughest of dynamics and makes it fun.
"InterAct totally changed our relationship to
the way we develop our people"
Head of learning
Coca Cola Enterprises
Richard Jacobs
Keynote Speaker
About Contact
InterAct
Keynotes Books
Clients