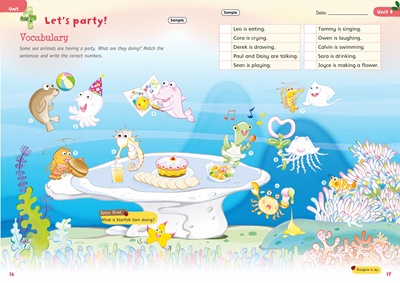 Unit 4
❾
❼
❽
❻
❿
Date: Date:
Leo is eating. Tammy is singing.
Cora is crying. Owen is laughing.
Derek is drawing. Calvin is swimming.
Paul and Daisy are talking. Sara is drinking.
Sean is playing. Joyce is making a flower.
He is walking.
17
Unit
Let's party!
❶
❷
❸ ❹
➎
Vocabulary
Some sea animals are having a party. What are they doing? Match the
sentences and write the correct numbers.
What is Starfish Sam doing?
Extra Word
16