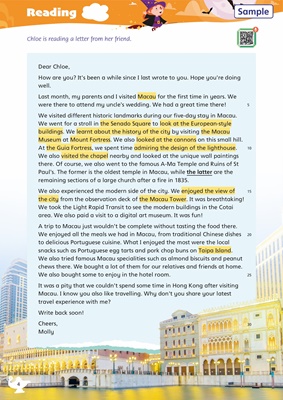 Reading 1
Chloe is reading a letter from her friend.
Dear Chloe,
How are you? It's been a while since I last wrote to you. Hope you're doing
well.
Last month, my parents and I visited Macau for the first time in years. We
were there to attend my uncle's wedding. We had a great time there!
We visited different historic landmarks during our five-day stay in Macau.
We went for a stroll in the Senado Square to look at the European-style
buildings. We learnt about the history of the city by visiting the Macau
Museum at Mount Fortress. We also looked at the cannons on this small hill.
At the Guia Fortress, we spent time admiring the design of the lighthouse.
We also visited the chapel nearby and looked at the unique wall paintings
there. Of course, we also went to the famous A-Ma Temple and Ruins of St
Paul's. The former is the oldest temple in Macau, while the latter are the
remaining sections of a large church after a fire in 1835.
We also experienced the modern side of the city. We enjoyed the view of
the city from the observation deck of the Macau Tower. It was breathtaking!
We took the Light Rapid Transit to see the modern buildings in the Cotai
area. We also paid a visit to a digital art museum. It was fun!
A trip to Macau just wouldn't be complete without tasting the food there.
We enjoyed all the meals we had in Macau, from traditional Chinese dishes
to delicious Portuguese cuisine. What I enjoyed the most were the local
snacks such as Portuguese egg tarts and pork chop buns on Taipa Island.
We also tried famous Macau specialities such as almond biscuits and peanut
chews there. We bought a lot of them for our relatives and friends at home.
We also bought some to enjoy in the hotel room.
It was a pity that we couldn't spend some time in Hong Kong after visiting
Macau. I know you also like travelling. Why don't you share your latest
travel experience with me?
Write back soon!
Cheers,
Molly
5
10
15
20
25
30
4