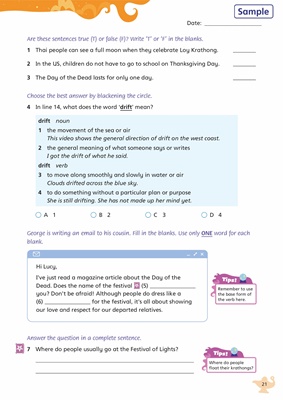 Date: ____________________21
Are these sentences true (T) or false (F)? Write 'T' or 'F' in the blanks.
1 Thai people can see a full moon when they celebrate Loy Krathong.
2 In the US, children do not have to go to school on Thanksgiving Day.
3 The Day of the Dead lasts for only one day.
Choose the best answer by blackening the circle.
4 In line 14, what does the word 'drift' mean?
drift noun
1 the movement of the sea or air
This video shows the general direction of drift on the west coast.
2 the general meaning of what someone says or writes
I got the drift of what he said.
drift verb
3 to move along smoothly and slowly in water or air
Clouds drifted across the blue sky.
4 to do something without a particular plan or purpose
She is still drifting. She has not made up her mind yet.
A 1 B 2 C 3 D 4
George is writing an email to his cousin. Fill in the blanks. Use only ONE word for each
blank.
Hi Lucy,
I've just read a magazine article about the Day of the
Dead. Does the name of the festival (5)
you? Don't be afraid! Although people do dress like a
(6) for the festival, it's all about showing
our love and respect for our departed relatives.
Remember to use
the base form of
the verb here.
Tips!
Answer the question in a complete sentence.
7 Where do people usually go at the Festival of Lights?
Where do people
float their krathongs?
Tips!