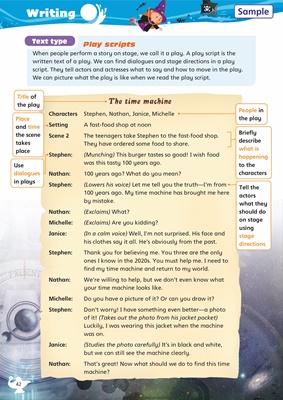 Writing 3
Play scr pts
When people perform a story on stage, we call it a play. A play script is the
written text of a play. We can find dialogues and stage directions in a play
script. They tell actors and actresses what to say and how to move in the play.
We can picture what the play is like when we read the play script.
Text type
The time machine
Characters Stephen, Nathan, Janice, Michelle
Setting A fast-food shop at noon
Scene 2 The teenagers take Stephen to the fast-food shop.
They have ordered some food to share.
Stephen: (Munching) This burger tastes so good! I wish food
was this tasty 100 years ago.
Nathan: 100 years ago? What do you mean?
Stephen: (Lowers his voice) Let me tell you the truth-I'm from
100 years ago. My time machine has brought me here
by mistake.
Nathan: (Exclaims) What?
Michelle: (Exclaims) Are you kidding?
Janice: (In a calm voice) Well, I'm not surprised. His face and
his clothes say it all. He's obviously from the past.
Stephen: Thank you for believing me. You three are the only
ones I know in the 2020s. You must help me. I need to
find my time machine and return to my world.
Nathan: We're willing to help, but we don't even know what
your time machine looks like.
Michelle: Do you have a picture of it? Or can you draw it?
Stephen: Don't worry! I have something even better-a photo
of it! (Takes out the photo from his jacket pocket)
Luckily, I was wearing this jacket when the machine
was on.
Janice: (Studies the photo carefully) It's in black and white,
but we can still see the machine clearly.
Nathan: That's great! Now what should we do to find this time
machine?
People in
the play
Title of
the play
Tell the
actors
what they
should do
on stage
using
stage
directions
Briefly
describe
what is
happening
to the
characters
Place
and time
the scene
takes
place
42
Use
dialogues
in plays