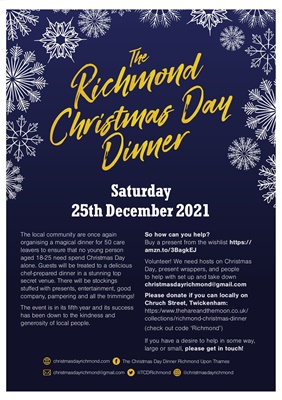 Richmond December What's On
The local community are once again
organising a magical dinner for 50 care
leavers to ensure that no young person
aged 18-25 need spend Christmas Day
alone. Guests will be treated to a delicious
chef-prepared dinner in a stunning top
secret venue. There will be stockings
stuffed with presents, entertainment, good
company, pampering and all the trimmings!
The event is in its fifth year and its success
has been down to the kindness and
generosity of local people.
So how can you help?
Buy a present from the wishlist https://
amzn.to/3BagkEJ
Volunteer! We need hosts on Christmas
Day, present wrappers, and people
to help with set up and take down
christmasdayrichmond@gmail.com
Please donate if you can locally on
Chruch Street, Twickenham:
https:/www.thehareandthemoon.co.uk/
collections/richmond-christmas-dinner
(check out code 'Richmond')
If you have a desire to help in some way,
large or small, please get in touch!
Saturday
christmasdayrichmond@gmail.comChristmas Day Dinner Richmond Upon Thames
christmasdayrichmond.com
christmasdayrichmond@gmail.com @TCDRichmond @christmasdayrichmond