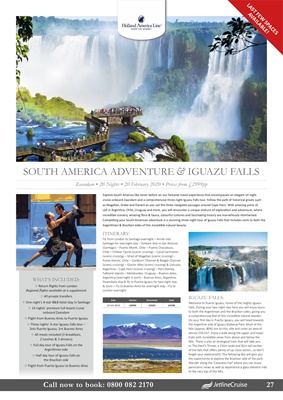 Call now to book: 0800 082 2170 27
WHAT'S INCLUDED:
✥ Return flights from London
Regional flights available at a supplement
✥ All transfers
✥ One night's 4-star hotel stay in Miami
✥ 30-32 nights' premium full-board cruise
onboard Volendam
Get ready for giant water lilies - Victoria amazonica -
capable of cradling a small child, watch as pink dolphins
surf in your ship's wake and marvel at the Wedding of the
Waters; the clear waters of Rio Tapajos and the muddy
waters of the Amazon running parallel for miles without
blending. These and countless other adventures await
you as Volendam cruises 1,000 miles up the Amazon past
shaman villages and tropical markets to Manaus. With
incredible excursions available you can take in an evening
performance in the opulent Amazon Theatre in Manaus
or spend the evening cruising a jungle tributary in search
of crocodiles. Plus, with days of exploration and delight
in the Caribbean on both sides of your journey, you can
drive into the caldera of a dormant volcano in St. Lucia
and tour a rum distillery in Barbados.
Date Nights Interior Oceanview Suite
19 Nov 2019 32 £3099 £3289 £6139
18 Nov 2020* 34 £4489 £4829 £7829
*Cruise itinerary varies.
CRUISE ITINERARY (30-32 NIGHTS):
Fort Lauderdale - Gustavia, St. Barthelemy - St. Lucia - Devils Island, French Guiana - Barra Norte Sea - Crossing the
Amazon River Bar - Barra Norte River - Cruising the Amazon River - Macapa, Brazil - Cruising the Amazon River - Crossing
the Equator - Santarem, Brazil - Boca da Valeria, Brazil - Manaus, Brazil (overnight in port) - Manaus, Brazil - Parintins,
Brazil - Alter Do Chao, Brazil - Crossing the Equator - Cruising the Amazon River - Barra Norte River - Crossing the Amazon
River Bar - Barra Norte Sea - Crossing the Equator - Icoaraci (Belem), Brazil - Crossing the Equator - Bridgetown, Barbados
- Oranjestad, Aruba - Willemstad, Curacao - Falmouth, Jamaica - Georgetown, Cayman Islands - Key West, Florida - Fort
Lauderdale (itinerary varies)
THE AMAZON, BRAZIL
& CARIBBEAN EXPLORER
Volendam • 32-34 Nights • November 2019 & November 2020 • Prices from £3099pp
EQUATOR
FT. LAUDERDALE
Manaus
Parintins Alter do Chão
Santarém
Belém
Boca da Valeria
Devil's
Island
Key West
Grand
Cayman
Barbados
Aruba
Falmouth
Curaçao St. Lucia
St. Barts