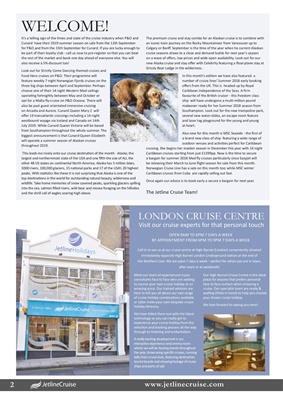 2
Call in to see us at our cruise centre at High Barnet (London) conveniently situated
immediately opposite High Barnet London Underground station at the end of
the Northern Line. We are open 7 days a week - perfect for when you are in town,
after work or at weekends!
Meet our team of experienced cruise
consultants face to face who are waiting
to source your next cruise holiday at an
amazing price. Our trained advisors are
here to tell you all about our vast range
of cruise holiday combinations available
or tailor make your own bespoke cruise
holiday itinerary.
We have kitted them out with the latest
technology so you can really get to
experience your cruise holiday from the
selection and booking process all the way
through to ticketing and embarkation.
A really exciting development is our
interactive experience and cinema room
where we will be hosting events throughout
the year, showcasing specific cruises, running
talks from cruise lines, featuring destination
tourist boards and showing footage of cruise
ships and ports of call.
Our High Barnet Cruise Centre is the ideal
place for anyone that prefers personal
face to face contact when choosing a
cruise. Our specialist team are ready &
waiting (iPads in hand) to help you choose
your dream cruise holiday.
We look forward to seeing you here!
OPEN 9AM TO 6PM 7 DAYS A WEEK
BY APPOINTMENT FROM 6PM TO 9PM 7 DAYS A WEEK
LONDON CRUISE CENTRE
Visit our cruise experts for that personal touch
It's a telling sign of the times and state of the cruise industry when P&O and
Cunard have their 2019 summer season on sale from the 12th September
for P&O and from the 15th September for Cunard. If you are lucky enough to
be part of their loyalty club - call us now to pre-register so that you can beat
the rest of the market and book one day ahead of everyone else. You will
also receive a 5% discount too!
Look out for Strictly Come Dancing themed cruises and
Food Hero cruises on P&O. Their programme will
feature weekly 7 night Norwegian Fjords cruises on the
three big ships between April and September. Perhaps
choose one of their 14 night Western Med sailings
operating fortnightly between May and October or
opt for a Malta fly-cruise on P&O Oceana. There will
also be past guest orientated immersive cruising
on Arcadia and Aurora. Cunard Queen Mary 2 will
offer 19 transatlantic crossings including a 14 night
westbound voyage via Iceland and Canada on 14th
July 2019. While Cunard Queen Victoria will be based
from Southampton throughout the whole summer. The
biggest announcement is that Cunard Queen Elizabeth
will operate a summer season of Alaskan cruises
throughout 2019.
This leads me nicely onto our cruise destination of the month - Alaska; the
largest and northernmost state of the USA and one fifth the size of ALL the
other 48 US states on continental North America. Alaska has 3 million lakes,
3000 rivers, 100,000 glaciers, 15 national parks and 17 of the USA's 20 highest
peaks. With statistics like these it is not surprising that Alaska is one of the
top destinations in the world for outstanding natural beauty, wilderness and
wildlife. Take home memories of snow covered peaks, sparkling glaciers spilling
into the sea, salmon filled rivers, wild bear and moose foraging on the hillsides
and the shrill call of eagles soaring high above.
The premium cruise and stay combo for an Alaskan cruise is to combine with
an iconic train journey on the Rocky Mountaineer from Vancouver up to
Calgary or Banff. September is the time of the year when he current Alaskan
cruise seasons draws to a close and demand builds for next year's season
on a wave of offers, low prices and wide open availability. Look out for our
new Alaska cruise and stay offer with Celebrity featuring a float-plane stay at
Grizzly Bear Lodge in the wilderness.
In this month's edition we have also featured a
number of cruise lines' Summer 2018 early booking
offers from the UK. This is headed up by Royal
Caribbean Independence of the Seas. A firm
favourite of the British cruiser - this freedom class
ship will have undergone a multi-million pound
makeover ready for her Summer 2018 season from
Southampton. Look out for the new trampoline park,
several new water-slides, an escape room feature
and laser tag playground for the young and young
at heart.
Also new for this month is MSC Seaside - the first of
a brand new class of ship featuring a wide range of
outdoor venues and activities perfect for Caribbean
cruising. She begins her maiden season in December this year with 14 night
Caribbean cruises starting from just £1399pp. Now is the time to secure
a bargain for summer 2018 Med fly cruises particularly since Easyjet will
be releasing their March to June flight season for sale from this month.
Norwegian Cruise Line has a sale on this month too; while MSC winter
Caribbean cruises from Cuba are rapidly selling out fast.
Once again our advice is to book early a secure a bargain for next year.
The Jetline Cruise Team!
WELCOME!