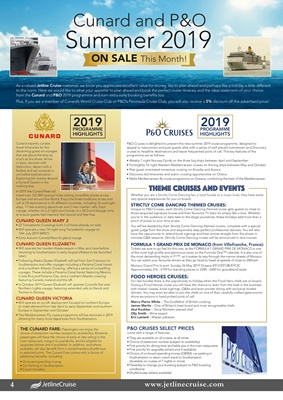 4 Cunard expertly curates
travel itineraries for the
discerning guest on voyages
that are about the ship as
much as the shore. Arrive
in style, discover with
distinction, depart with a
fanfare and sail onwards in
unrivalled sophistication.
Exploring the oceans aboard
a Cunard Queen is like
nothing else.
In 2019 the Cunard fleet will
travel over 167,000 nautical miles visiting incredible places across
Europe and around the World. Enjoy the finest traditions at sea and
call at 78 destinations in 25 different countries, including 16 overnight
stays, 11 late evening departures and 2 new maiden calls. Each
voyage, whether it's a 2 night short break or a 36 Grand Voyage aims
to ensure guests feel inspired, feel special and feel free.
CUNARD QUEEN MARY 2
• 22 Transatlantic Crossings (with 3 of these already on sale)
• Will operate a new 14-night long Transatlantic voyage on
14th July 2019 (M921)
• Extra Autumn Canada/New England voyage
CUNARD QUEEN ELIZABETH
• Will operate her maiden Alaska season in May and June before
returning to Southampton in early August (Alaska to be launched
later).
• Following Alaska Queen Elizabeth will sail from San Francisco to
Southampton and offer voyages including a Panama Canal transit
and a northern Atlantic Crossing, offering a series of compelling
voyages. These include a Panama Canal transit featuring Mexico,
Costa Rica and Panama City; and a northern Atlantic crossing
featuring Canada, Iceland and the UK.
• In October 2019 Queen Elizabeth will operate Cunard's first ever
Northern Lights voyage, featuring extended calls to Narvik and
Tromso in Norway.
CUNARD QUEEN VICTORIA
• Will operate an ex-UK deployment focused on northern Europe
to meet demand from late April to early September and southern
Europe in September and October
• The Mediterranean Fly cruise programme will be removed in 2019
allowing for many more departures from Southampton.
THE CUNARD FARE: Passengers can enjoy the
choice of stateroom number (subject to availability), Britannia
passengers will have the choice of early or late sitting in the
main restaurant, subject to availability, and be eligible for
upgrades (where and if available). In addition, and where
available, will also benefit from a complimentary shuttle bus
in selected ports. The Cunard Fare comes with a choice of
additional benefits, including:
• On board spending money
• Car Parking in Southampton
• Coach transfers
As a valued Jetline Cruise customer, we know you appreciate excellent value for money, like to plan ahead and perhaps like a holiday a little different
to the norm. Here we would like to whet your appetite to plan ahead and book the perfect cruise itinerary and the ideal stateroom of your choice
from the Cunard and P&O 2019 programme and earn extra early booking benefits too.
Plus, if you are a member of Cunard's World Cruise Club or P&O's Peninsula Cruise Club, you will also receive a 5% discount off the advertised price!
Cunard and P&O
Summer 2019
ON SALE This Month!
P&O Cruises is delighted to present the new summer 2019 cruise programme, designed to
appeal to newcomers and past guests alike with a series of well placed mainstream and Discovery
cruises to headline destinations and lesser frequented ports of call. The key features of the
programme are as follows:
• Weekly 7 night Norway Fjords on the three big ships between April and September
• Fortnightly 14 night Western Mediterranean cruises on the big ships between May and October
• Past guest orientated immersive cruising on Arcadia and Aurora
• Discovery led itineraries and scenic cruising opportunities on Oriana
• Malta Mediterranean fly-cruise programme on Oceana, combining the best of the Mediterranean
THEME CRUISES AND EVENTS
Whether you are a Strictly Come Dancing fan, a total foodie or a music lover, they have some
very special experiences for you on board.
STRICTLY COME DANCING THEMED CRUISES:
Unique to P&O Cruises, each Strictly Come Dancing themed cruise gets guests so close to
those sequined signature moves and their favourite TV stars it's simply fab-u-lous. Whether
you're in the audience or dare take to the stage yourselves, these holidays add more than a
pinch of pizazz to your time at sea.
You will be dazzled by their Strictly Come Dancing themed cruises, complete with a special
guest judge from the show and sequinned, step-perfect professional dancers. You will also
have the opportunity to attend book signings and hear stories straight from the shows in
intimate Q&A sessions. (Strictly Come Dancing cruises will be announced in due course).
FORMULA 1 GRAND PRIX DE MONACO (from Villefranche, France):
Tickets are sure to go fast for this one, as the FORMULA 1 GRAND PRIX DE MONACO is one
of the most high profile and glamorous races on the Formula OneTM calendar. It is also one of
the most demanding tracks in F1TM, as it snakes its way through the narrow streets of Monaco.
You can watch your favourite drivers as they go head to head at speeds of close to 200mph.
Monaco Grand Prix In port: Sunday 26 May 2019 Oceana E912/E912B/E912C
Approximately £76 - £199 for standing places or £200 - £600 for grandstand seats
FOOD HEROES CRUISES:
For real foodies there is the opportunity to holiday when the Food Hero chefs are on board.
During a Food Heroes cruise you will have the chance to learn from the best in the business
with master classes, book signings, Q&As and even private dining with exclusive hosted
dinners. You may even be able to join the chefs on one of their carefully crafted gastronomic
shore excursions in hand picked ports of call.
Marco Pierre White - The Godfather of British cooking
James Martin - One of Britain's best-loved and most recognisable chefs
Atul Kochhar - Twice Michelin-starred chef
Olly Smith - Wine expert
Eric Lanlard - Master pâtissier
P&O CRUISES SELECT PRICES
come with a range of features:
• They are available on all cruises, at all times
• Choice of stateroom number (subject to availability)
• First priority for dining time and table size in the main restaurants
• First priority for upgrades (where and if available)
• Choice of on-board spending money (OBSM), car parking in
Southampton or return coach travel to Southampton.
(Available on cruises of 7 nights or more).
• Flexibility to change your booking (subject to P&O booking
conditions)
• Shuttle buses (where available)
2019
PROGRAMME
HIGHLIGHTS
2019
PROGRAMME
HIGHLIGHTS
4