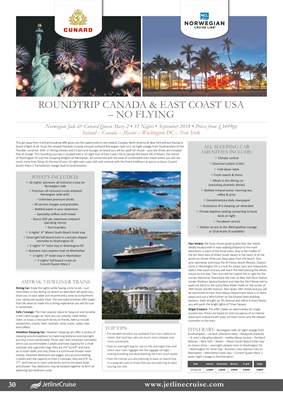 ROUNDTRIP CANADA & EAST COAST USA
- NO FLYING
Norwegian Jade & Cunard Queen Mary 2 • 33 Nights • September 2018 • Prices from £3499pp
Iceland - Canada - Miami - Washington DC - New York
AMTRAK VIEWLINER TRAINS
ALL SLEEPING CAR
AMENITIES INCLUDE:
✥ Climate control
✥ Electrical outlets (110v)
✥ Fold down table
✥ Fresh towels & linens
✥ Meals in the dining car
(excluding alcoholic drinks)
✥ Bottled mineral water, morning tea,
coffee & juice.
✥ Complimentary daily newspaper
✥ Assistance of a sleeping car attendant
✥ Private daytime seating converting to bunk
beds at night
✥ Turndown service
✥ Station access to the Metropolitan Lounge
or Club Acela (if available)
Date Interior Oceanview Balcony Pr grill Single
29 Sep 18 £3499 £3699 £4499 £5499 £5899
ITINERARY: Norwegian Jade 16 night voyage from
Southampton - Lerwick (Shetland Isles) - Reykjavik (Iceland)
- St John's (Newfoundland) - Halifax (Nova Scotia) - Portland
(Maine) - New York - Miami - Miami South Beach hotel stay
on Ocean Drive - overnight sleeper train to Washington DC
- Washington DC hotel stay - Business class express train to
Manhattan - Manhattan hotel stay - Cunard Queen Mary 2
seven night voyage to Southampton.
This get away from it all early booking offer gives you the opportunity to visit Iceland, Canada, North America & New York without having to
board a flight at all. Enjoy the relaxed freestyle cruising concept onboard Norwegian Jade on a 16 night voyage from Southampton to the
Floridian sunshine. With 17 dining choices and 15 bars and lounges on board you will be spoilt for choice - plus the drinks are included
free of charge. This roundtrip journey is coupled with a 10 night tour of East Coast USA to sample the beach life of Miami, the history
of Washington DC and the shopping delights of Manhattan. All connected with the ease of comfortable train travel where you will see
much more than flying. At the end of your 10 night east coast USA visit contrast with the finest traditions at sea on a classic Cunard
Queen Mary 2 Transatlantic voyage back to Southampton.
WHAT'S INCLUDED:
✥ 16 nights' premium all-inclusive cruise on
Norwegian Jade
✥ Premium all-inclusive cruise onboard
Norwegian Jade with:
- Unlimited premium drinks
- All service charges and gratuities
- Bottled water in your stateroom
- Speciality coffees with meals
- Bonus $50 per stateroom onboard
spending money
✥ Port transfers
✥ 3 nights' 4* Miami South Beach hotel stay
✥ Overnight full-board train in a private sleeper
roomette to Washington DC
✥ 3 nights' 4* hotel stay in Washington DC
✥ Business class express train to Manhattan
✥ 3 nights' 4* hotel stay in Manhattan
✥ 7 nights' full-board cruise on
Cunard Queen Mary 2
Dining Car: Enjoy the sights while having a bite to eat - just
stroll down to the dining car where an attendant will greet you,
show you to your table and recommend a wine to compliment
your restaurant-quality meal. The oversized windows offer larger
than life views to make this a dining experience you will be sure
to remember.
Cafe / Lounge: The most popular place to hang out and socialise
is the Cafe/Lounge car. Here you can unwind, meet fellow
riders or enjoy a meal with family or friends. Menus include
sandwiches, snacks, beer, cocktails, wine, juices, sodas, teas
and coffees.
Viewliner Sleeping Car: Viewliner sleeping cars offer a variety of
sleeping accommodations to make long-distance and overnight
journeys more comfortable. Prices start with Viewliner roomettes
which can accommodate 2 adults and have capacity for 2 small
suitcases and a garment bag; they are 3'6" by 6'8" and have
an in-room toilet and sink; there is a communal shower room
nearby. Viewliner Bedrooms are bigger, also accommodating
2 adults with the capacity to hold 2 suitcases; they are 6'8" by
7"1' and have an in-room sink/vanity and an enclosed toilet
and shower. Two bedrooms may be booked together to form an
adjoining two-bedroom suite.
TOP TIPS:
- Pre-booked transfers are available from train stations to
hotels. But local taxi cabs are much more cheaper and
more convenient.
- Pack an overnight bag for use on the overnight train and
check your main luggage into the luggage carriage -
making boarding and disembarking the train much easier.
- Pack the clothes you are planning to wear on board ship
in a separate case to those that you are planning to wear
touring the USA.
Your Hotels: We have chosen good quality four star hotels
ideally located with-in easy walking distance to the main
attractions in each of the three cities. Stay in the middle of
the Art Deco area of Miami South beach in the heart of all the
action on Ocean Drive just steps away from the beach. Don
your swimwear and enjoy the Al-Fresco beach lifestyle. Dupont
Circle in Washington DC is a hub for shops, bars and restaurants;
walk a mile south and you will reach the Mall passing the White
House on the way. Then turn left for Capitol Hill or right for the
Lincoln Memorial. Disembark the train at New York Penn Station
(under Madison Square Garden) and take the 33rd Street exit to
walk one block to the iconic New Yorker Hotel on the corner of
34th Street and 8th Avenue. Peer down 34th Street and you will
be astonished at how close Macys Department Store is (1 block
away) and just a little further on the Empire State Building
beckons. Walk straight up 7th Avenue and within 8 short blocks
you will reach the bright lights of Times Square.
Single Cruisers: This offer makes an ideal holiday for single
cruisers too. Prices are based on sole occupancy of an interior
stateroom onboard both ships, all hotel rooms and the sleeper
roomette on the train.