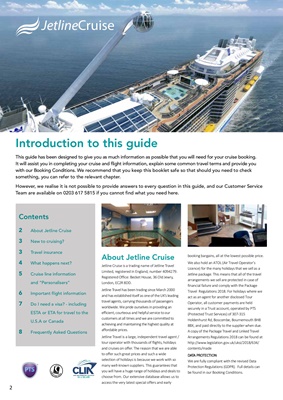 2 Introduction to this guide
This guide has been designed to give you as much information as possible that you will need for your cruise booking.
It will assist you in completing your cruise and flight information, explain some common travel terms and provide you
with our Booking Conditions. We recommend that you keep this booklet safe so that should you need to check
something, you can refer to the relevant chapter.
However, we realise it is not possible to provide answers to every question in this guide, and our Customer Service
Team are available on 0203 617 5815 if you cannot find what you need here.
Contents
2 About Jetline Cruise
3 New to cruising?
3 Travel insurance
4 What happens next?
5 Cruise line information
and "Personalisers"
6 Important flight information
7 Do I need a visa? - including
ESTA or ETA for travel to the
U.S.A or Canada
8 Frequently Asked Questions
About Jetline Cruise
Jetline Cruise is a trading name of Jetline
Travel Limited, registered in England,
number 4094279. Registered Office:
Becket House, 36 Old Jewry, London,
EC2R 8DD.
Jetline Travel has been trading since
March 2000 and has established itself as
one of the UK's leading travel agents,
carrying thousands of passengers
worldwide. We pride ourselves in
providing an efficient, courteous and
helpful service to our customers at all
times and we are committed to achieving
and maintaining the highest quality at
affordable prices.
Jetline Travel is a large, independent
travel agent / tour operator with
JetlineCruise
thousands of flights, holidays and cruises
on offer. The reason that we are able to
offer such great prices and such a wide
selection of holidays is because we work
with so many well-known suppliers. This
guarantees that you will have a huge
range of holidays and deals to choose
from. Our extensive database allows us to
access the very latest special offers and
early booking bargains, all at the lowest
possible price.
We are a Member of ABTA (Association
of British Travel Agents) which means
that we operate within the ABTA Code
of Conduct. We also hold an ATOL
(Air Travel Operator's Licence) for the
many holidays that we sell as a Jetline
package. This means that all of the travel
arrangements we sell are protected in
case of financial failure.