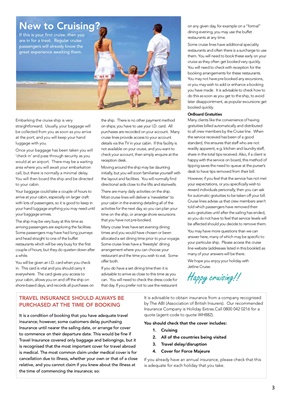 3
New to Cruising?
If this is your first cruise, then you
are in for a treat. Regular cruise
passengers will already know the
great experience awaiting them.
Embarking the cruise ship is very
straightforward. Usually, your baggage will
be collected from you as soon as you arrive
at the port; and you will keep your hand
luggage with you.
Once your baggage has been taken you will
'check in' and pass through security as you
would at an airport. There may be a waiting
area where you will await your embarkation
call, but there is normally a minimal delay.
You will then board the ship and be directed
to your cabin.
Your baggage could take a couple of hours to
arrive at your cabin, especially on larger craft
with lots of passengers, so it is good to keep in
your hand luggage anything you may need until
your baggage arrives.
The ship may be very busy at this time as
arriving passengers are exploring the facilities.
Some passengers may have had long journeys
and head straight to one of the buffet
restaurants which will be very busy for the first
couple of hours; but they do quieten down after
a while.
You will be given an I.D. card when you check
in. This card is vital and you should carry it
everywhere. The card gives you access to
your cabin, allows you on and off the ship on
shore-based days, and records all purchases on
the ship. There is no other payment method
on ships; you have to use your I.D. card. All
purchases are recorded on your account. Many
cruise lines provide access to your account
details via the TV in your cabin. If this facility is
not available on your cruise, and you want to
check your account, then simply enquire at the
reception desk.
Moving around the ship may be daunting
initially, but you will soon familiarise yourself with
the layout and facilities. You will normally find
directional aids close to the lifts and stairwells.
There are many daily activities on the ship.
Most cruise lines will deliver a 'newsletter' to
your cabin in the evening detailing all of the
activities for the next day, so you can plan your
time on the ship, or arrange shore excursions
that you have not pre-booked.
Many cruise lines have set evening dining
times and you would have chosen or been
allocated a set dining time prior to your voyage.
Some cruise lines have a 'freestyle' dining
arrangement where you can choose your
restaurant and the time you wish to eat. Some
offer both.
If you do have a set dining time then it is
advisable to arrive as close to this time as you
can. You will need to check the dress code for
that day. If you prefer not to use the restaurant
on any given day, for example on a "formal"
dining evening, you may use the buffet
restaurants at any time.
Some cruise lines have additional speciality
restaurants and often there is a surcharge to use
them. You will need to book these early on your
cruise as they often get booked very quickly.
You will need to check with reception for the
booking arrangements for these restaurants.
You may not have pre booked any excursions,
or you may wish to add or enhance a booking
you have made. It is advisable to check how to
do this as soon as you get to the ship, to avoid
later disappointment, as popular excursions get
booked quickly.
OnBoard Gratuities
Many clients like the convenience of having
gratuities billed automatically and distributed
to all crew members by the Cruise line. When
the service received has been of a good
standard, this ensures that staff who are not
readily apparent, e.g. kitchen and laundry staff,
share in the total tips received. Also, if a client is
happy with the service on board, this method of
tipping saves the need to queue at the purser's
desk to have tips removed from their bill.
However, if you feel that the service has not met
your expectations, or you specifically wish to
reward individuals personally, then you can ask
for automatic gratuities to be taken off your bill.
Cruise lines advise us that crew members aren't
told which passengers have removed their
auto-gratuities until after the sailing has ended,
so you do not have to feel that service levels will
be affected should you decide to remove them.
You may have more questions than we can
answer here, many of which may be specific to
your particular ship. Please access the cruise
line website (addresses listed in this booklet) as
many of your answers will be there.
We hope you enjoy your holiday with
Jetline Cruise.
Happy cruising!!
TRAVEL INSURANCE SHOULD ALWAYS BE
PURCHASED AT THE TIME OF BOOKING
It is a condition of booking that you have adequate travel
insurance; however, some customers delay purchasing
Insurance until nearer the sailing date, or arrange for cover
to commence on their departure date. This would be fine if
Travel Insurance covered only baggage and belongings, but it
is recognised that the most important cover for travel abroad
is medical. The most common claim under medical cover is for
cancellation due to illness, whether your own or that of a close
relative, and you cannot claim if you knew about the illness at
the time of commencing the insurance; so:
It is advisable to obtain insurance from a company recognised
by The ABI (Association of British Insurers). Our recommended
Insurance Company is Holiday Extras.Call 0800 042 0216 for a
quote (agent code to quote WH882).
You should check that the cover includes:
1. Cruising
2. All of the countries being visited
3. Travel delay/disruption
4. Cover for Force Majeure
If you already have an annual insurance, please check that this
is adequate for each holiday that you take.