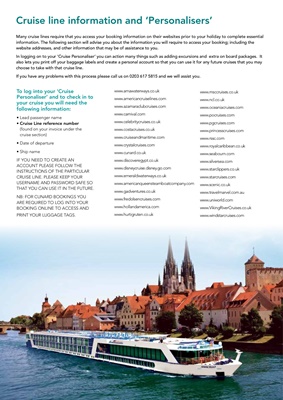 5
Many cruise lines require that you access your booking information on their websites prior to your holiday to complete essential
information. The following section will advise you about the information you will require to access your booking; including the
website addresses, and other information that may be of assistance to you.
In logging on to your 'Cruise Personaliser' you can action many things such as adding excursions and extra on board packages. It
also lets you print off your baggage labels and create a personal account so that you can use it for any future cruises that you may
choose to take with that cruise line.
If you have any problems with this process please call us on 0203 617 5815 and we will assist you.
To log into your 'Cruise
Personaliser' and to check in to
your cruise you will need the
following information:
• Lead passenger name
• Cruise Line reference number
(found on your invoice under the
cruise section)
• Date of departure
• Ship name
IF YOU NEED TO CREATE AN
ACCOUNT PLEASE FOLLOW THE
INSTRUCTIONS OF THE PARTICULAR
CRUISE LINE. PLEASE KEEP YOUR
USERNAME AND PASSWORD SAFE SO
THAT YOU CAN USE IT IN THE FUTURE.
NB: FOR CUNARD BOOKINGS YOU
ARE REQUIRED TO LOG INTO YOUR
BOOKING ONLINE TO ACCESS AND
PRINT YOUR LUGGAGE TAGS.
www.disneycruise.disney.go.com
www.americanqueensteamboatcompany.com
Cruise line information and 'Personalisers'