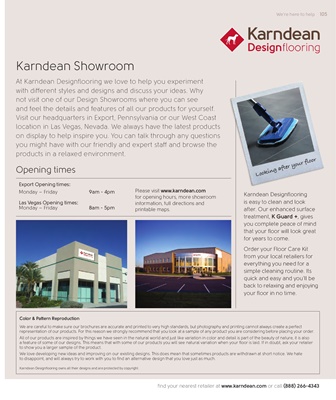 We're here to help 105
Karndean Showroom
At Karndean Designflooring we love to help you experiment
with different styles and designs and discuss your ideas. Why
not visit one of our Design Showrooms where you can see
and feel the details and features of all our products for yourself.
Visit our headquarters in Export, Pennsylvania or our West Coast
location in Las Vegas, Nevada. We always have the latest products
on display to help inspire you. You can talk through any questions
you might have with our friendly and expert staff and browse the
products in a relaxed environment.
oor
er y our fl
Opening times g aft
L ookin
Export Opening times:
Monday – Friday 9am - 4pm Please visit www.karndean.com
for opening hours, more showroom Karndean Designflooring
Las Vegas Opening times: information, full directions and is easy to clean and look
Monday – Friday 8am - 5pm printable maps. after. Our enhanced surface
treatment, K Guard +, gives
you complete peace of mind
that your floor will look great
for years to come.
Order your Floor Care Kit
from your local retailers for
everything you need for a
simple cleaning routine. Its
quick and easy and you'll be
back to relaxing and enjoying
your floor in no time.
Color & Pattern Reproduction
We are careful to make sure our brochures are accurate and printed to very high standards, but photography and printing cannot always create a perfect
representation of our products. For this reason we strongly recommend that you look at a sample of any product you are considering before placing your order.
All of our products are inspired by things we have seen in the natural world and just like variation in color and detail is part of the beauty of nature, it is also
a feature of some of our designs. This means that with some of our products you will see natural variation when your floor is laid. If in doubt, ask your retailer
to show you a larger sample of the product.
We love developing new ideas and improving on our existing designs. This does mean that sometimes products are withdrawn at short notice. We hate
to disappoint, and will always try to work with you to find an alternative design that you love just as much.
Karndean Designflooring owns all their designs and are protected by copyright.
find nearest showroom at www.karndean.co.uk (888) 820100
find youryour nearest retailer at www.karndean.com or call 01386 266-4343