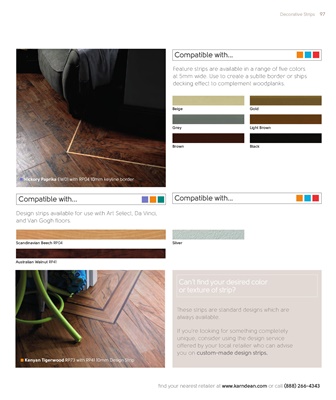 Decorative Strips 97
Compatible with...
Feature strips are available in a range of five colors
at 5mm wide. Use to create a subtle border or ships
decking effect to complement woodplanks.
Beige Gold
Grey Light Brown
Brown Black
Hickory Paprika EW01 with RP04 10mm keyline border
Compatible with... Compatible with...
Design strips available for use with Art Select, Da Vinci,
and Van Gogh floors.
Scandinavian Beech RP04 Silver
Australian Walnut RP41
Can't find your desired color
or texture of strip?
These strips are standard designs which are
always available.
If you're looking for something completely
unique, consider using the design service
offered by your local retailer who can advise
you on custom-made design strips.
Kenyan Tigerwood RP73 with RP41 10mm Design Strip
find your nearest retailer at www.karndean.com or call (888) 266-4343