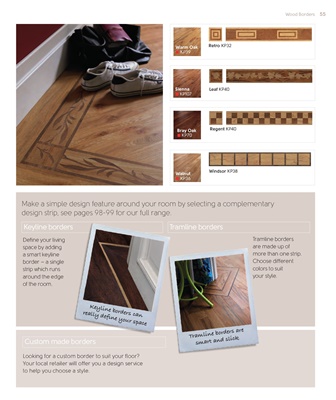 Wood Borders 55
Warm Oak Retro KP32
KP39
Sienna Leaf KP40
KP107
Bray Oak Regent KP40
KP70
Windsor KP38
Walnut
KP36
Make a simple design feature around your room by selecting a complementary
design strip, see pages 98-99 for our full range.
Keyline borders Tramline borders
Define your living Tramline borders
space by adding are made up of
a smart keyline more than one strip.
border – a single Choose different
strip which runs colors to suit
around the edge your style.
of the room.
Keylin
really d e borders can
efine y
our spa
ce
e
borders ar
Tramline slick
Custom made borders smart and
Looking for a custom border to suit your floor?
Your local retailer will offer you a design service
to help you choose a style.