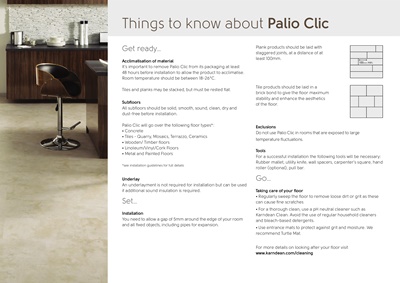 Get ready…
Acclimatisation of material
It's important to remove Palio Clic from its packaging at least
48 hours before installation to allow the product to acclimatise.
Room temperature should be between 18-26°C.
Tiles and planks may be stacked, but must be rested flat.
Subfloors
All subfloors should be solid, smooth, sound, clean, dry and
dust-free before installation.
Palio Clic will go over the following floor types*:
• Concrete
• Tiles - Quarry, Mosaics, Terrazzo, Ceramics
• Wooden/ Timber floors
• Linoleum/Vinyl/Cork Floors
• Metal and Painted Floors
*see installation guidelines for full details
Underlay
An underlayment is not required for installation but can be used
if additional sound insulation is required.
Set…
Installation
You need to allow a gap of 5mm around the edge of your room
and all fixed objects, including pipes for expansion.
Plank products should be laid with
staggered joints, at a distance of at
least 100mm.
Tile products should be laid in a
brick bond to give the floor maximum
stability and enhance the aesthetics
of the floor.
Exclusions
Do not use Palio Clic in rooms that are exposed to large
temperature fluctuations.
Tools
For a successful installation the following tools will be necessary:
Rubber mallet, utility knife, wall spacers, carpenter's square, hand
roller (optional), pull bar.
Go…
Taking care of your floor
• Regularly sweep the floor to remove loose dirt or grit as these
can cause fine scratches
• For a thorough clean, use a pH neutral cleaner such as
Karndean Clean. Avoid the use of regular household cleaners
and bleach-based detergents.
• Use entrance mats to protect against grit and moisture. We
recommend Turtle Mat.
For more details on looking after your floor visit
Things to know about Palio Clic
100mm min.
19