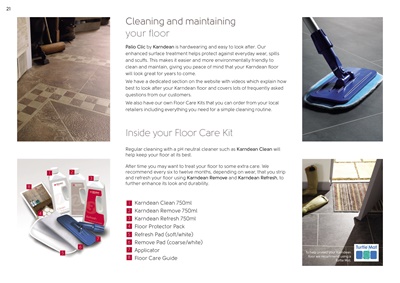 Cleaning and maintaining
your floor
Palio Clic by Karndean is hardwearing and easy to look after. Our
enhanced surface treatment helps protect against everyday wear, spills
and scufs. This makes it easier and more environmentally friendly to
clean and maintain, giving you peace of mind that your Karndean floor
will look great for years to come.
We have a dedicated section on the website with videos which explain how
best to look after your Karndean floor and covers lots of frequently asked
questions from our customers.
We also have our own Floor Care Kits that you can order from your local
retailers including everything you need for a simple cleaning routine.
Inside your Floor Care Kit
2
3
1
4
5
6
7
8
Karndean Clean 750ml
Karndean Remove 750ml
Karndean Refresh 750ml
Floor Protector Pack
Refresh Pad (soft/white)
Remove Pad (coarse/white)
Applicator
Floor Care Guide
1
5
2
6
3
7
4
8
Regular cleaning with a pH neutral cleaner such as Karndean Clean will
help keep your floor at its best.
After time you may want to treat your floor to some extra care. We
recommend every six to twelve months, depending on wear, that you strip
and refresh your floor using Karndean Remove and Karndean Refresh, to
further enhance its look and durability.
To help protect your Karndean
floor we recommend using a
Turtle Mat.
21