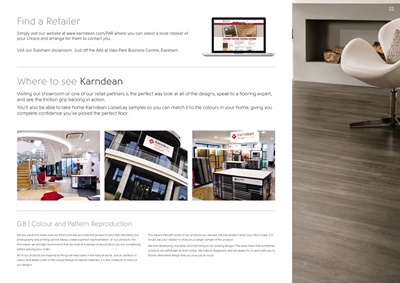 GB | Colour and Pattern Reproduction
Find a Retailer
Simply visit our website at www.karndean.com/far where you can select a local retailer of
your choice and arrange for them to contact you.
Visit our Evesham showroom. Just of the A46 at Vale Park Business Centre, Evesham.
Where to see Karndean
Visiting our showroom or one of our retail partners is the perfect way look at all of the designs, speak to a flooring expert,
and see the friction grip backing in action.
You'll also be able to take home Karndean LooseLay samples so you can match it to the colours in your home, giving you
complete confidence you've picked the perfect floor.
We are careful to make sure our brochures are accurate and printed to very high standards, but
photography and printing cannot always create a perfect representation of our products. For
this reason we strongly recommend that you look at a sample of any product you are considering
before placing your order.
All of our products are inspired by things we have seen in the natural world. Just as variation in
colour and detail is part of the unique beauty of natural materials, it is also a feature of many of
our designs.
This means that with some of our products you will see natural variation when your floor is laid. If in
doubt, ask your retailer to show you a larger sample of the product.
We love developing new ideas and improving on our existing designs. This does mean that sometimes
products are withdrawn at short notice. We hate to disappoint, and will always try to work with you to
find an alternative design that you love just as much.
22