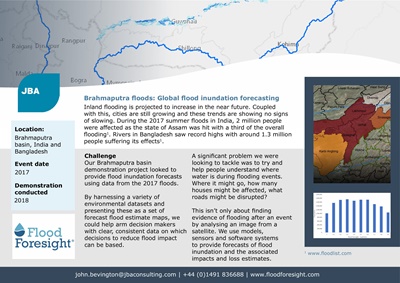 Brahmaputra floods: Global flood inundation forecasting
Inland flooding is projected to increase in the near future. Coupled
with this, cities are still growing and these trends are showing no signs
of slowing. During the 2017 summer floods in India, 2 million people
were affected as the state of Assam was hit with a third of the overall
flooding1. Rivers in Bangladesh saw record highs with around 1.3 million
people suffering its effects1.
Location:
Brahmaputra
basin, India and
Bangladesh
Event date
2017
A significant problem we were
looking to tackle was to try and
help people understand where
water is during flooding events.
Where it might go, how many
houses might be affected, what
roads might be disrupted?
This isn't only about finding
evidence of flooding after an event
by analysing an image from a
satellite. We use models,
sensors and software systems
to provide forecasts of flood
inundation and the associated
impacts and loss estimates.
Challenge
Our Brahmaputra basin
demonstration project looked to
provide flood inundation forecasts
using data from the 2017 floods.
By harnessing a variety of
environmental datasets and
presenting these as a set of
forecast flood estimate maps, we
could help arm decision makers
with clear, consistent data on which
decisions to reduce flood impact
can be based.
john.bevington@jbaconsulting.com | +44 (0)1491 836688 | www.floodforesight.com
Demonstration
conducted
2018