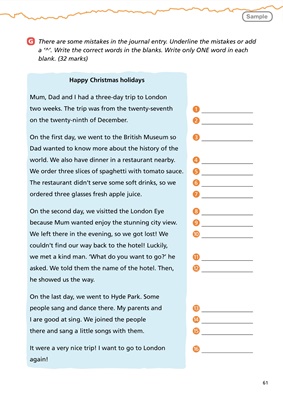 G There are some mistakes in the journal entry. Underline the mistakes or add
a '^'. Write the correct words in the blanks. Write only ONE word in each
blank. (32 marks)
Happy Christmas holidays
Mum, Dad and I had a three-day trip to London
two weeks. The trip was from the twenty-seventh
on the twenty-ninth of December.
On the first day, we went to the British Museum so
Dad wanted to know more about the history of the
world. We also have dinner in a restaurant nearby.
We order three slices of spaghetti with tomato sauce.
The restaurant didn't serve some soft drinks, so we
ordered three glasses fresh apple juice.
On the second day, we visitted the London Eye
because Mum wanted enjoy the stunning city view.
We left there in the evening, so we got lost! We
couldn't find our way back to the hotel! Luckily,
we met a kind man. 'What do you want to go?' he
asked. We told them the name of the hotel. Then,
he showed us the way.
On the last day, we went to Hyde Park. Some
people sang and dance there. My parents and
I are good at sing. We joined the people
there and sang a little songs with them.
It were a very nice trip! I want to go to London
again!
1
2
3
4
5
6
7
8
9
A
B
C
D
E
F
G
61
Sample