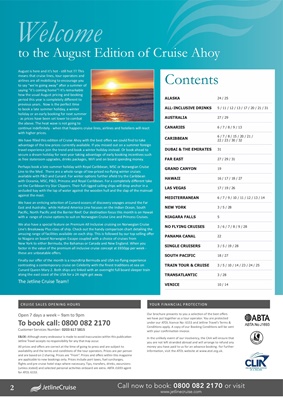 Open 7 days a week - 9am to 9pm
To book call: 0800 082 2170
Customer Services Number: 0203 617 5815
E&OE: Although every endeavour is made to avoid inaccuracies within this publication
Jetline Travel accepts no responsibility for any that may occur.
All prices and offers are correct at the time of going to press and are subject to
availability and the terms and conditions of the tour operators. Prices are per person
and are based on 2 sharing. Prices are "From". Prices and offers within this magazine
are applicable to new bookings only. Prices include port taxes, fuel surcharges,
flights and pre cruise hotel stays where necessary. Tips, transfers, drinks, excursions
(unless stated) and selected personal activities onboard are extra. ABTA J1693 agent
for ATOL 6153.
CRUISE SALES OPENING HOURS
Our brochure presents to you a selection of the best offers
we have put together as a tour operator. You are protected
under our ATOL licence No: 6153 and Jetline Travel's Terms &
Conditions apply. A copy of our Booking Conditions will be sent
with your confirmation invoice.
In the unlikely event of our insolvency, the CAA will ensure that
you are not left stranded abroad and will arrange to refund any
money you have paid to us for an advance booking. For further
information, visit the ATOL website at www.atol.org.uk.
YOUR FINANCIAL PROTECTION
ALASKA 24 / 25
ALL-INCLUSIVE DRINKS 5 / 11 / 12 / 13 / 17 / 20 / 21 / 31
AUSTRALIA 27 / 29
CANARIES 6 / 7 / 8 / 9 / 13
CARIBBEAN
6 / 7 / 8 / 15 / 20 / 21 /
22 / 23 / 30 / 32
DUBAI & THE EMIRATES 31
FAR EAST 27 / 29 / 31
GRAND CANYON 19
HAWAII 16 / 17 / 18 / 27
LAS VEGAS 17 / 19 / 26
MEDITERRANEAN 6 / 7 / 9 / 10 / 11 / 12 / 13 / 14
NEW YORK 3 / 5 / 28
NIAGARA FALLS 5
NO FLYING CRUISES 3 / 6 / 7 / 8 / 9 / 28
PANAMA CANAL 22
SINGLE CRUISERS 3 / 5 / 19 / 28
SOUTH PACIFIC 18 / 27
TRAIN TOUR & CRUISE 3 / 5 / 10 / 14 / 23 / 24 / 25
TRANSATLANTIC 3 / 28
VENICE 10 / 14
Contents
August is here and it's hot - still hot !!! This
means that cruise lines, tour operators and
airlines are all mobilising to encourage you
to say "we're going away" after a summer of
saying "it's coming home"! It's remarkable
how the usual August pricing and booking
period this year is completely different to
previous years. Now is the perfect time
to book a late summer holiday, a winter
holiday or an early booking for next summer
- as prices have been set lower to combat
the above. The heat wave is not going to
continue indefinitely - when that happens cruise lines, airlines and hoteliers will react
with higher prices.
We have filled this edition of Cruise Ahoy with the best offers we could find to take
advantage of the low prices currently available. If you missed out on a summer foreign
travel experience join the trend and book a winter holiday instead. Or book ahead to
secure a dream holiday for next year taking advantage of early booking incentives such
as free stateroom upgrades, drinks packages, WiFi and on board spending money.
Perhaps book a late summer holiday with Royal Caribbean, MSC or Norwegian Cruise
Line to the Med. There are a whole range of low-priced no-flying winter cruises
available with P&O and Cunard. For winter options further afield try the Caribbean
with Oceania, MSC, P&O, Princess and Royal Caribbean. For a completely different take
on the Caribbean try Star Clippers. Their full rigged sailing ships will drop anchor in a
secluded bay with the lap of water against the wooden hull and the slap of the mainsail
against the mast.
We have an enticing selection of Cunard oceans of discovery voyages around the Far
East and Australia; while Holland America Line focuses on the Indian Ocean, South
Pacific, North Pacific and the Barrier Reef. Our destination focus this month is on Hawaii
with a range of cruise options to suit on Norwegian Cruise Line and Princess Cruises.
We also have a special feature on Premium All Inclusive cruising on Norwegian Cruise
Line's Breakaway Plus class of ship. Check out the handy comparison chart detailing the
amazing range of facilities available on each ship. This is followed by our top selling offer
to Niagara on board Norwegian Escape coupled with a choice of cruises from
New York to either Bermuda, the Bahamas or Canada and New England. When you
factor in the value of the premium all inclusive cruise concept at £650pp per week -
these are unbeatable offers.
Finally our offer of the month is a roundtrip Bermuda and USA no-flying experience
contrasting a contemporary cruise on Celebrity with the finest traditions at sea on
Cunard Queen Mary 2. Both ships are linked with an overnight full board sleeper train
along the east coast of the USA for a 24 night get away.
The Jetline Cruise Team!
Welcometo the August Edition of Cruise Ahoy
2 Call now to book: 0800 082 2170 or visit