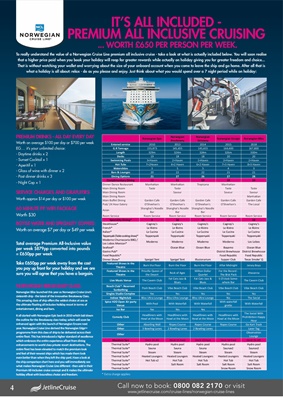 IT'S ALL INCLUDED -
PREMIUM ALL INCLUSIVE CRUISING
... WORTH £650 PER PERSON PER WEEK.
To really understand the value of a Norwegian Cruise Line premium all inclusive cruise - take a look at what is actually included below. You will soon realise
that a higher price paid when you book your holiday will reap far greater rewards while actually on holiday giving you far greater freedom and choice...
That is without watching your wallet and worrying about the size of your onboard account when you come to leave the ship and go home. After all that is
what a holiday is all about: relax - do as you please and enjoy. Just think about what you would spend over a 7 night period while on holiday:
PREMIUM DRINKS - ALL DAY EVERY DAY
Worth on average $100 per day or $700 per week
EG.... it's your unlimited choice:
- Daytime drinks x 2
- Sunset Cocktail x 1
- Aperitif x 1
- Glass of wine with dinner x 2
- Post dinner drinks x 3
- Night Cap x 1
SERVICE CHARGES AND GRATUITIES
Worth approx $14 per day or $100 per week
60 MINUTE PP WIFI PACKAGE
Worth $30
BOTTLE WATER AND SPECIALITY COFFEES
Worth on average $7 per day or $49 per week
Total average Premium All-Inclusive value
per week $879pp converted into pounds
= £650pp per week
Take £650pp per week away from the cost
you pay up front for your holiday and we are
sure you will agree that you have a bargain.
NORWEGIAN BREAKAWAY CLASS
Norwegian Bliss launched this year as Norwegian Cruise Line's
sixteenth ship - the latest of the innovative Breakaway Class.
This amazing class of ship offers the widest choice at sea as
the ultimate floating all inclusive holiday resort in terms of
entertainment, dining and bars.
It all started with Norwegian Epic back in 2010 which laid down
the outline for the Breakaway class today; which will soon be
enhanced again with the launch of Norwegian Encore next
year. Norwegian Cruise Line derived the Norwegian EdgeTM
programme from this class of ship to be delivered across their
entire fleet. This has introduced a higher standard of excellence
which embraces the entire experience afloat from dining
enhancements to world class private resort destinations. The
entire fleet has been elevated to match the premium look
and feel of their newest ships which has made them look
even better than when they left the ship yard. Have a look at
the ship comparison chart here and you will immediately see
what makes Norwegian Cruise Line different - then add in their
Premium All-Inclusive cruise concept and it makes the ultimate
holiday afloat with boundless choice and freedom.
Norwegian Epic
Norwegian
Breakaway
Norwegian
Getaway
Norwegian Escape Norwegian Bliss
Entered service 2010 2013 2014 2015 2018
G.R Tonnage 155,873 145,655 145,655 164,600 167,800
Length 329m 324m 324m 326m 330m
Decks 19 18 18 20 20
Swimming Pools 3+Haven 2+Haven 2+Haven 2+Haven 2+Haven
Hot Tubs 7+2Haven 6+2 Haven 6+2 Haven 7+3 Haven 8+3 Haven
Waterslides 3 5 5 4 3
Bars & Lounges 20 22 22 21 21
Dining Options 21 27 26 27 28
Complimentary Dining 12 11 10 10 10
Dinner Dance Restaurant Manhattan Manhattan Tropicana Manhattan
Main Dining Room Taste Taste Taste Taste
Main Dining Room Savour Savour Savour
Main Dining Room Manhattan
Main Buffet Dining Garden Cafe Garden Cafe Garden Cafe Garden Cafe Garden Cafe
Pub/ 24 Hour Eatery O'Sheehan's O'Sheehan's O'Sheehan's O'Sheehan's The Local
Asian
Shanghai's Noodle
Bar
Shanghai's Noodle
Bar
Shanghai's Noodle
Bar
Room Service Room Service Room Service Room Service Room Service Room Service
Speciality Dining* 9 16 16 17 18
Steakhouse* Cagney's Cagney's Cagney's Cagney's Cagney's
French* Le Bistro Le Bistro Le Bistro Le Bistro Le Bistro
Italian* La Cucina La Cucina La Cucina La Cucina La Cucina
Teppenyaki (Table cooking show)* Teppenyaki Teppenyaki Teppenyaki Teppenyaki Teppenyaki
Moderno Churrascaria BBQ /
Los Lobos Mexican*
Moderno Moderno Moderno Moderno Los Lobos
Seafood* Ocean Blue Ocean Blue Bayamo Ocean Blue
Gastro Pub* District Brewhouse District Brewhouse
Food Republic* Food Republic Food Republic
Dinner Show* Speigel Tent Speigel Tent Illusionarium Supper Club Texas Smoke' Q
Featured Shows In the
Theatre
Burn the Floor Burn the Floor Burn the Floor After Midnight Jersey Boys
Featured Shows In the
Theatre
Priscilla Queen of
the Desert
Rock of Ages
Million Dollar
Quartet
For the Record -
The Brat Pack
iHavanna
Live Music Venue The Cavern Club
Fat Cats Jazz &
Blues
Fat Cats Jazz &
Blues
5 O'clock Somewhere
Bar
The Cavern Club
Beach Club*- Reserved
Sunbathing
Posh Beach Club Vibe Beach Club Vibe Beach Club Vibe Beach Club Vibe Beach Club
Singles Studio Complex Yes Yes Yes Yes Yes
Indoor Nightclub Bliss Ultra Lounge Bliss Ultra Lounge Bliss Ultra Lounge No The Social
Spice H2O Open Air party
Venue
With Pool With Waterfall With Waterfall
With waterfall
grotto
With Waterfall
Ice Bar Yes Yes Yes
Comedy Club
Headlliners with
Howl at the Moon
Headlliners with
Howl at the Moon
Headlliners with
Howl at the Moon
Headlliners with
Howl at the Moon
The Social With
Prohitbition Happy
Hour
Other Abseiling Wall Ropes Course Ropes Course Ropes Course Go Kart Track
Other 3 Bowling Lanes 2 Bowling Lanes 2 Bowling Lanes Laser Tag
Other
Observation
Lounge
Mandara Spa Deck 14 Aft Deck 15 Fwd Deck 15 Fwd Deck 16 Fwd Deck 16 Aft
Thermal Suite* Hydro pool Hydro pool Hydro pool Hydro pool Hydro pool
Thermal Suite* Sauna Sauna Sauna Saunax2 Saunax2
Thermal Suite* Steam Steam Steam Steam Steam
Thermal Suite* Heated Loungers Heated Loungers Heated Loungers Heated Loungers Heated Loungers
Thermal Suite* Hot Tub x2 Hot Tub Hot Tub Hot Tub Hot Tub
Thermal Suite* Salt Room Salt Room Salt Room Salt Room
Thermal Suite* Snow Room Snow Room
* Extra charge applies
4 Call now to book: 0800 082 2170 or visit