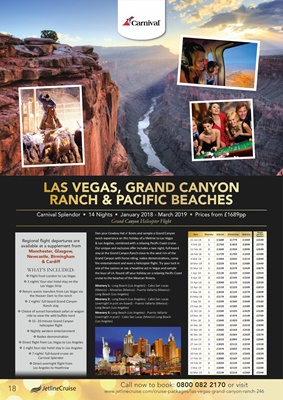 Don your Cowboy Hat n' Boots and sample a Grand Canyon
ranch experience on this holiday of a lifetime to Las Vegas
& Los Angeles, combined with a relaxing Pacific Coast cruise.
Our unique and exclusive offer includes a two night, full-board
stay at the Grand Canyon Ranch close to the west rim of the
Grand Canyon with horse riding, rodeo demonstrations, camp
fire entertainment and even a helicopter flight. Try your luck in
one of the casinos or see a headline act in Vegas and sample
the buzz of LA. Round off your holiday on a relaxing Pacific Coast
cruise to the beaches of the Mexican Riviera.
Itinerary 1: Long Beach (Los Angeles) - Cabo San Lucas
(Mexico) - Mazatlan (Mexico) - Puerto Vallarta (Mexico) -
Long Beach (Los Angeles)
Itinerary 2: Long Beach (Los Angeles) - Cabo San Lucas
(overnight in port on-board) - Puerto Vallarta (Mexico) -
Long Beach (Los Angeles)
Itinerary 3: Long Beach (Los Angeles) - Puerto Vallarta
(overnight in port) - Cabo San Lucas (Mexico) Long Beach
(Los Angeles)
Call now to book: 0800 082 2170 or visit
www.jetlinecruise.com/cruise-packages/las-vegas-grand-canyon-ranch-246
18
Carnival Splendor • 14 Nights • January 2018 - March 2019 • Prices from £1689pp
Date Itinerary Interior Oceanview Balcony
Single
person
interior
21 Jan 18 1 £1689 £1779 £1969 £2549
4 Feb 18 1 £1769 £1859 £2099 £2759
11 Feb 18 2 £1849 £1939 £2099 £2699
18 Feb 18 1 £1729 £1799 £1959 £2489
4 Mar 18 1 £1969 £2029 £2219 £2849
18 Mar 18 1 £2229 £2319 £2489 £3449
25 Mar 18 1 £2199 £2279 £2429 £3079
1 Apr 18 1 £2139 £2229 £2369 £2959
8 Apr 18 2 £2129 £2199 £2359 £2989
15 Apr 18 1 £2099 £2179 £2329 £2939
22 Apr 18 1 £2159 £2229 £2399 £3019
6 May 18 1 £2059 £2139 £2279 £2899
20 May 18 1 £2179 £2289 £2399 £3079
2 Sep 18 1 £2299 £2349 £2449 £3169
23 Sep 18 1 £2229 £2289 £2389 £3099
21 Oct 18 1 £2269 £2329 £2429 £3189
18 Nov 18 1 £1899 £1979 £2149 £2769
9 Dec 18 1 £1849 £1929 £2099 £2699
16 Dec 18 2 £2059 £2169 £2319 £3099
23 Dec 18 1 £2069 £2169 £2339 £3149
30 Dec 18 1 £2189 £2269 £2429 £3279
20 Jan 19 1 £2019 £2099 £2249 £2989
27 Jan 19 3 £2029 £2119 £2259 £3339
3 Feb 19 1 £1979 £2059 £2199 £3189
10 Feb 19 1 £2039 £2119 £2269 £3229
17 Feb 19 1 £2089 £2169 £2319 £3099
24 Feb 19 2 £2059 £2139 £2289 £3299
3 Mar 19 1 £2049 £2129 £2279 £3289
10 Mar 19 1 £2139 £2219 £2369 £3349
WHAT'S INCLUDED:
✥ Flight from London to Las Vegas
✥ 3 nights' four-star hotel stay on the
Las Vegas Strip
✥ Return scenic transfers from Las Vegas via
the Hoover Dam to the ranch
✥ 2 nights' full-board Grand Canyon
Ranch stay
✥ Choice of sunset horseback safari or wagon
ride to view the wild buffalo herd
✥ 15- 20 minute Grand Canyon
helicopter flight
✥ Nightly western entertainment
✥ Rodeo demonstration
✥ Direct flight from Las Vegas to Los Angeles
✥ 1 night four-star hotel stay in Los Angeles
✥ 7 nights' full-board cruise on
Carnival Splendor
✥ Direct overnight flight from
Los Angeles to Heathrow
Regional flight departures are
available at a supplement from
Manchester, Glasgow,
Newcastle, Birmingham
& Cardiff