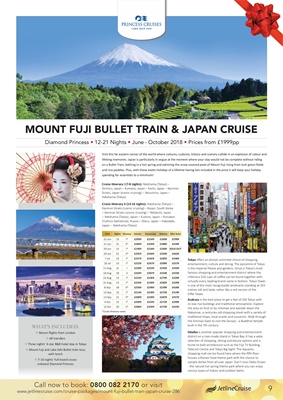 MOUNT FUJI BULLET TRAIN & JAPAN CRUISE
Diamond Princess • 12-21 Nights • June - October 2018 • Prices from £1999pp
WHAT'S INCLUDED:
✥ Return flights from London
✥ All transfers
✥ Three nights' 4-star B&B hotel stay in Tokyo
✥ Mount Fuji and Lake Ashi Bullet train tour,
with lunch
✥ 7-16 nights' full-board cruise
onboard Diamond Princess
Visit this far eastern corner of the world where cultures, customs, history and scenery collide in an explosion of colour and
lifelong memories. Japan is particularly in vogue at the moment where your stay would not be complete without riding
on a Bullet Train, bathing in a hot spring and admiring the snow covered peak of Mount Fuji rising from lush green fields
and rice paddies. Plus, with these exotic holidays of a lifetime having lots included in the price it will keep your holiday
spending for essentials to a minimum!
Tokyo offers an almost unlimited choice of shopping,
entertainment, culture and dining. The epicentre of Tokyo
is the Imperial Palace and gardens. Ginza is Tokyo's most
famous shopping and entertainment district where the
infamous $10 cups of coffee can be found together with
virtually every leading brand name in fashion. Tokyo Tower
is one of the most recognisable landmarks standing at 333
metres tall and looks rather like a red version of the
Eiffel Tower.
Asakusa is the best place to get a feel of Old Tokyo with
its low rise buildings and traditional atmosphere. Explore
the area on foot or by rickshaw and wander down the
Nakamise, a centuries old shopping street with a variety of
traditional shops, local snacks and souvenirs. Walk through
the Kiminari Gate to visit the Sensoji - a Buddhist temple
built in the 7th century.
Odaiba is another popular shopping and entertainment
district on a man-made island in Tokyo Bay. It has a wide
selection of shopping, dining and leisure options and is
home to bold architecture such as the Fuji TV Building,
Telecom Centre and Tokyo Big Sight. The Aquacity
shopping mall can be found here where the fifth floor
houses a Ramen food theme park with the chance to
sample dishes from all over Japan. Don't miss Oedo Onsen
- the natural hot spring theme park where you can enjoy
various types of indoor and outdoor baths.
Call now to book: 0800 082 2170 or visit
www.jetlinecruise.com/cruise-packages/mount-fuji-bullet-train-japan-cruise-286 9
2018 Nights Itinerary Interior Oceanview Balcony Mini-Suite
21 Jun 13 I* £2099 £2249 £2699 £2999
21 Jun 21 II* £2899 £3399 £3889 £4399
29 Jun 13 I* £1999 £2249 £2699 SOLD OUT
29 Jun 21 II* £2959 £3449 £3939 £4629
7 Jul 13 I* £2279 £2429 £2859 £3469
23 Jul 13 I* £2529 £2679 £3099 £3579
11 Aug 12 I £2399 £2539 £2929 £3439
18 Aug 18 II £2649 £3079 £3549 £4339
23 Aug 13 I* £2239 £2369 £2799 £3299
31 Aug 13 I* £2249 £2399 £2829 £3299
8 Sep 18 II* £2569 £2999 £3399 £4269
13 Sep 13 I* £2149 £2299 £2729 £3199
13 Sep 21 II* £2899 £3399 £3879 £4579
4 Oct 13 I* £2099 £2249 £2729 £2999
12 Oct 20 II* £2869 £3299 £3739 £4239
*Cruise itinerary varies
Cruise itinerary I (7-8 nights): Yokohama (Tokyo) -
Shimizu, Japan - Kumano, Japan - Kochi, Japan - Kanmon
Straits, Japan (scenic cruising) - Yatsushiro, Japan -
Yokohama (Tokyo)
Cruise itinerary II (13-16 nights): Yokohama (Tokyo) -
Kanmon Straits (scenic cruising) - Busan, South Korea
- Kanmon Straits (scenic cruising) - Yokkaichi, Japan
- Yokohama (Tokyo), Japan - Kushiro, Japan - Korsakov
(Yuzhno-Sakhalinsk), Russia - Otaru, Japan - Hakodate,
Japan - Yokohama (Tokyo)