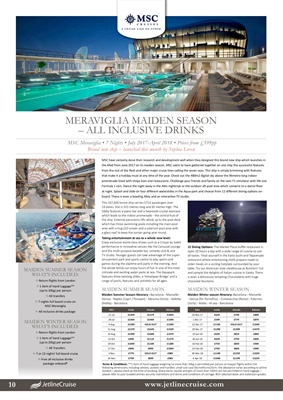 10
This 167,600 tonne ship carries 5714 passengers over
19 decks. She is 315 metres long and 65 metres high. The
lobby features a piano bar and a Swarovski crystal staircase
which leads to the indoor promenade - the central hub of
the ship. External panoramic lifts whisk up to the pool deck
which has three swimming pools including the main pool
area with a hug LED screen and a solarium pool area with
a glass roof to keep the suntan going year round.
Taking entertainment at sea to a whole new level:
Enjoy exclusive world-class shows such as a Cirque du Soleil
performance in innovative venues like the Carousel Lounge
and the multi-purpose karaoke bar, comedy club & and
TV studio. Younger guests can take advantage of the superamusement
park and sports centre to play sports and
games during the daytime and party in the evening. And
the whole family can enjoy hours of fun in one of the most
intricate and exciting water parks at sea. The Aquapark
features three twisting slides, a 'Himalayan Bridge' and a
range of pools, features and activities for all ages.
MAIDEN SUMMER SEASON
Maiden Summer Season Itinerary : Barcelona - Marseille -
Genoa - Naples (Capri / Pompeii) - Messina (Sicily) - Valletta
(Malta) - Barcelona
MAIDEN WINTER SEASON
Maiden Winter season Itinerary: Barcelona - Marseille
- Genoa (for Portofino) - Civitavecchia (Rome) - Palermo
(Sicily) - Malta - At sea - Barcelona
12 Dining Options: The Market Place buffet restaurant is
open 20 hours a day with a wide range of cuisine to suit
all tastes. Treat yourself in the Kaito Sushi and Teppenyaki
restaurant where entertaining chefs prepare made to
order meals on a sizzling hotplate surrounded by your
table. Try our American style steakhouse at Butchers' Cut
and sample the delights of Italian cuisine in Eataly. There
is even a deliciously tempting Chocolaterie with huge
chocolate fountains
MERAVIGLIA MAIDEN SEASON
- ALL INCLUSIVE DRINKS
MSC Meraviglia • 7 Nights • July 2017-April 2018 • Prices from £599pp
Brand new ship - launched this month by Sophia Loren
MAIDEN WINTER SEASON
WHAT'S INCLUDED:
✥ Return flights from London
✥ 1 item of hand Luggage**
(up to 20kg) per person
✥ All Transfers
✥ 7 or 12 nights' full-board cruise
✥ Free all-inclusive drinks
package onboard#
MAIDEN SUMMER SEASON
WHAT'S INCLUDED:
✥ Return flights from London
✥ 1 item of hand Luggage**
(up to 20kg) per person
✥ All transfers
✥ 7 nights full board cruise on
MSC Meraviglia
✥ All-inclusive drinks package
MSC have certainly done their research and development well when they designed this brand new ship which launches in
the Med from June 2017 on its maiden season. MSC seem to have gathered together on one ship the successful features
from the rest of the fleet and other major cruise lines sailing the seven seas. This ship is simply brimming with features
that make it a holiday must at any time of the year. Check out the 480m2 digital sky above the 96metre long indoor
promenade lined with shops bars and restaurants. Challenge your friends and family on the twin F1 simulator with life-size
Formula 1 cars. Dance the night away in the Attic nightclub or the outdoor aft pool area which converts to a dance-floor
at night. Splash and slide on four different waterslides in the Aqua-park and choose from 12 different dining options onboard.
There is even a bowling Alley and an interactive TV studio.
Terms & Conditions: **1 item of hand luggage weighing no more than 20kg is permitted per person on Easyjet flights within the
following dimensions including wheels, pockets and handles: small suit case 56cmx45cmx25cm; the allowance varies according to airline
booked - please check at the time of booking. Sharp items, liquids and gels of more than 100ml are not permitted in hand luggage -
please refer to your booked airlines security restrictions and terms and conditions of carriage. #On selected dates and stateroom grades.
Norwegian Spirit
2017 Inside Outside Balcony
21 Jul £1439 £1579 £1659
28 Jul £1369 £1469 £1599
4 Aug £1399 SOLD OUT £1599
11 Aug £1379 £1629 £1539
25 Aug £1399 £1689 £1579
13 Oct £999 £1119 £1179
20 Oct £1049 £1189 £1289
27 Oct £899 £999 £1059
3 Nov £779 SOLD OUT £989
10 Nov £799 £899 £969
Date Inside Outside Balcony
24 Nov 17 £629 £799 £899
1 Dec 17 £599 £779 £879
22 Dec 17 £1159 SOLD OUT £1349
29 Dec 17 £1299 £1399 £1479
19 Jan 18 £639 £819 £869
26 Jan 18 £639 £759 £839
16 Feb 18 £759 £859 £939
23 Feb 18 £769 £869 £949
30 Mar 18 £1149 £1259 £1329
6 Apr 18 £1049 £1199 £1229