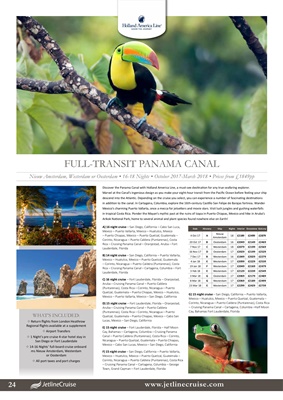 24
WHAT'S INCLUDED:
✥ Return flights from London Heathrow
Regional flights available at a supplement
✥ Airport Transfers
✥ 1 Night's pre cruise 4-star hotel stay in
San Diego or Fort Lauderdale
✥ 14-16 Nights' full-board cruise onboard
ms Nieuw Amsterdam, Westerdam
or Oosterdam
✥ All port taxes and port charges
Discover the Panama Canal with Holland America Line, a must-see destination for any true seafaring explorer.
Marvel at the Canal's ingenious design as you make your eight-hour transit from the Pacific Ocean before feeling your ship
descend into the Atlantic. Depending on the cruise you select, you can experience a number of fascinating destinations
in addition to the canal. In Cartagena, Columbia, explore the 16th-century Castillo San Felipe de Barajas fortress. Wander
Mexico's charming Puerto Vallarta, once a mecca for jetsetters and movie stars. Visit lush jungles and gushing waterfalls
in tropical Costa Rica. Ponder the Mayan's mythic past at the ruins of Izapa in Puerto Chiapas, Mexico and hike in Aruba's
Arikok National Park, home to several animal and plant species found nowhere else on Earth!
Date Itinerary Ship Nights Interior Oceanview Balcony
4 Oct 17 A
Nieuw
Amsterdam
18 £2189 £2499 £2879
20 Oct 17 B Oosterdam 16 £2049 £2149 £2469
7 Nov 17 C Westerdam 18 £2079 £2199 £2569
16 Nov 17 D Oosterdam 17 £2029 £2199 £2529
7 Dec 17 B Westerdam 16 £1849 £2029 £2279
4 Jan 18 E Westerdam 17 £2099 £2229 £2539
19 Jan 18 F Westerdam 17 £2049 £2169 £2479
3 Feb 18 E Westerdam 17 £2129 £2239 £2549
3 Mar 18 G Oosterdam 17 £2069 £2179 £2489
8 Mar 18 G Westerdam 17 £2069 £2189 £2499
23 Mar 18 E Westerdam 17 £2299 £2429 £2739
A) 16 night cruise - San Diego, California - Cabo San Luca,
Mexico - Puerto Vallarta, Mexico - Huatulco, Mexico
- Puerto Chiapas, Mexico - Puerto Quetzal, Guatemala -
Corinto, Nicaragua - Puerto Caldera (Puntarenas), Costa
Rica - Cruising Panama Canal - Oranjestad, Aruba - Fort
Lauderdale, Florida
B) 14 night cruise - San Diego, California - Puerto Vallarta,
Mexico - Huatulco, Mexico - Puerto Quetzal, Guatemala
- Corinto, Nicaragua - Puerto Caldera (Puntarenas), Costa
Rica - Cruising Panama Canal - Cartagena, Columbia - Fort
Lauderdale, Florida
C) 16 night cruise - Fort Lauderdale, Florida - Oranjestad,
Aruba - Cruising Panama Canal - Puerto Caldera
(Puntarenas), Costa Rica - Corinto, Nicaragua - Puerto
Quetzal, Guatemala - Puerto Chiapas, Mexico - Huatulco,
Mexico - Puerto Vallarta, Mexico - San Diego, California
D) 15 night cruise - Fort Lauderdale, Florida - Oranjestad,
Aruba - Cruising Panama Canal - Puerto Caldera
(Puntarenas), Costa Rica - Corinto, Nicaragua - Puerto
Quetzal, Guatemala - Puerto Chiapas, Mexico - Cabo San
Lucas, Mexico - San Diego, California
E) 15 night cruise - Fort Lauderdale, Florida - Half Moon
Cay, Bahamas - Cartagena, Columbia - Cruising Panama
Canal - Puerto Caldera (Puntarenas), Costa Rica - Corinto,
Nicaragua - Puerto Quetzal, Guatemala - Puerto Chiapas,
Mexico - Cabo San Lucas, Mexico - San Diego, California
F) 15 night cruise - San Diego, California - Puerto Vallarta,
Mexico - Huatulco, Mexico - Puerto Quetzal, Guatemala -
Corinto, Nicaragua - Puerto Caldera (Puntarenas), Costa Rica
- Cruising Panama Canal - Cartagena, Columbia - George
Town, Grand Cayman - Fort Lauderdale, Florida
G) 15 night cruise - San Diego, California - Puerto Vallarta,
Mexico - Huatulco, Mexico - Puerto Quetzal, Guatemala -
Corinto, Nicaragua - Puerto Caldera (Puntarenas), Costa Rica
- Cruising Panama Canal - Cartagena, Columbia -Half Moon
Cay, Bahamas Fort Lauderdale, Florida
FULL-TRANSIT PANAMA CANAL
Nieuw Amsterdam, Westerdam or Oosterdam • 16-18 Nights • October 2017-March 2018 • Prices from £1849pp