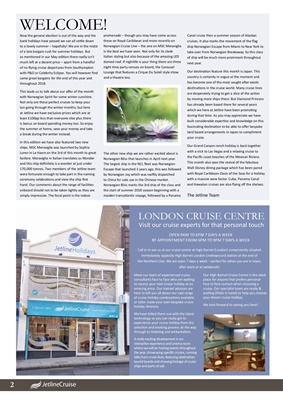 2
Call in to see us at our cruise centre at High Barnet (London) conveniently situated
immediately opposite High Barnet London Underground station at the end of
the Northern Line. We are open 7 days a week - perfect for when you are in town,
after work or at weekends!
Meet our team of experienced cruise
consultants face to face who are waiting
to source your next cruise holiday at an
amazing price. Our trained advisors are
here to tell you all about our vast range
of cruise holiday combinations available
or tailor make your own bespoke cruise
holiday itinerary.
We have kitted them out with the latest
technology so you can really get to
experience your cruise holiday from the
selection and booking process all the way
through to ticketing and embarkation.
A really exciting development is our
interactive experience and cinema room
where we will be hosting events throughout
the year, showcasing specific cruises, running
talks from cruise lines, featuring destination
tourist boards and showing footage of cruise
ships and ports of call.
Our High Barnet Cruise Centre is the ideal
place for anyone that prefers personal
face to face contact when choosing a
cruise. Our specialist team are ready &
waiting (iPads in hand) to help you choose
your dream cruise holiday.
We look forward to seeing you here!
OPEN 9AM TO 6PM 7 DAYS A WEEK
BY APPOINTMENT FROM 6PM TO 9PM 7 DAYS A WEEK
LONDON CRUISE CENTRE
Visit our cruise experts for that personal touch
Now the general election is out of the way and the
bank holidays have passed we can all settle down
to a lovely summer - hopefully! We are in the midst
of a late bargain rush for summer holidays. But
as mentioned in our May edition there really isn't
much left at a decent price - apart from a handful
of no flying cruise departures from Southampton
with P&O or Celebrity Eclipse. You will however find
some great bargains for the end of this year and
throughout 2018.
This leads us to talk about our offer of the month
with Norwegian Spirit for some winter sunshine.
Not only are these perfect cruises to keep your
tan going through the winter months; but here
at Jetline we have exclusive prices which are at
least £100pp less than everyone else plus there
is bonus on board spending money too. So enjoy
the summer at home, save your money and take
a break during the winter instead.
In this edition we have also featured two new
ships. MSC Meraviglia was launched by Sophia
Loren in Le Havre on the 3rd of this month to great
fanfare. Meraviglia in Italian translates as Wonder
and this ship definitely is a wonder at just under
170,000 tonnes. Two members of the Jetline team
were fortunate enough to take part in the naming
ceremony celebrations and view the ship first
hand. Our comments about the range of facilities
onboard should not to be taken lightly as they are
simply impressive. The focal point is the indoor
promenade - though you may have come across
these on Royal Caribbean and more recently on
Norwegian Cruise Line - the one on MSC Meraviglia
is the best we have seen. Not only for its sleek
Italian styling but also because of the amazing LED
domed roof. If nightlife is your thing there are three
night time party venues on board, the Carousel
Lounge that features a Cirque Du Soleil style show
and a theatre too.
The other new ship we are rather excited about is
Norwegian Bliss that launches in April next year.
The largest ship in the NCL fleet was Norwegian
Escape that launched 3 years ago, this was followed
by Norwegian Joy which was swiftly dispatched
to China for sole use in the Chinese market.
Norwegian Bliss marks the 3rd ship of the class and
the start of summer 2018 season beginning with a
maiden transatlantic voyage, followed by a Panama
Canal cruise then a summer season of Alaskan
cruises. It also marks the movement of the flag
ship Norwegian Escape from Miami to New York to
take over from Norwegian Breakaway. So this class
of ship will be much more prominent throughout
next year.
Our destination feature this month is Japan. This
country is certainly in vogue at the moment and
has become one of the most sought after exotic
destinations in the cruise world. Many cruise lines
are desperately trying to get a slice of the action
by moving more ships there. But Diamond Princess
has already been based there for several years
which we here at Jetline have been promoting
during that time. As you may appreciate we have
built considerable expertise and knowledge on this
fascinating destination to be able to offer bespoke
land based arrangements in Japan to compliment
your cruise.
Our Grand Canyon ranch holiday is back together
with a visit to Las Vegas and a relaxing cruise to
the Pacific coast beaches of the Mexican Riviera.
This month also sees the revival of the fabulous
Walt Disney dining package which has been pared
with Royal Caribbean Oasis of the Seas for a holiday
with a massive wow factor. Cuba, Panama Canal
and Hawaiian cruises are also flying off the shelves.
The Jetline Team
WELCOME!