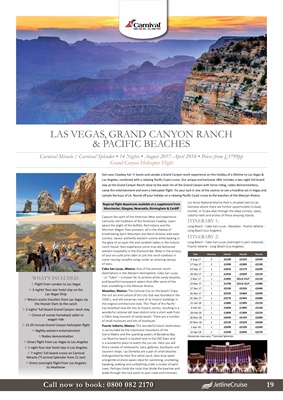 Call now to book: 0800 082 2170 19
Date Itinerary Interior Outside Bacony
6 Aug 17 2 £2189 £2329 £2399
17 Sep 17 2 £1999 £2099 £2199
24 Sep 17 1 £2059 £2179 £2299
29 Oct 17 2 £1959 £2039 £2159
5 Nov 17 1 £1899 SOLD OUT £2129
19 Nov 17 1 £1799 SOLD OUT £1989
17 Dec 17 1 £2199 £2339 £2499
24 Dec 17 2 £2359 £2469 £2599
31 Dec 17 1 £2279 £2349 £2489
21 Jan 18 1 £1889 £1999 £2159
4 Feb 18 1 £1899 £1999 £2149
18 Feb 18 1 £1899 £1999 £2159
18 Mar 18 1 £2049 £2149 £2289
25 Mar 18 1 £2129 £2229 £2369
1 Apr 18 1 £2099 £2199 £2349
15 Apr 18 1 £1949 £2049 £2179
Itineraries may vary. *Carnival Splendor.
WHAT'S INCLUDED:
✥ Flight from London to Las Vegas
✥ 3 nights' four-star hotel stay on the
Las Vegas Strip
✥ Return scenic transfers from Las Vegas via
the Hoover Dam to the ranch
✥ 2 nights' full-board Grand Canyon ranch stay
✥ Choice of sunset horseback safari or
wagon ride
✥ 15-20 minute Grand Canyon helicopter flight
✥ Nightly western entertainment
✥ Rodeo demonstration
✥ Direct flight from Las Vegas to Los Angeles
✥ 1 night four-star hotel stay in Los Angeles
✥ 7 nights' full-board cruise on Carnival
Miracle (*Carnival Splendor from 21 Jan)
✥ Direct overnight flight from Los Angeles
to Heathrow
Don your Cowboy hat 'n' boots and sample a Grand Canyon ranch experience on this holiday of a lifetime to Las Vegas &
Los Angeles, combined with a relaxing Pacific Coast cruise. Our unique and exclusive offer includes a two night full-board
stay at the Grand Canyon Ranch close to the west rim of the Grand Canyon with horse riding, rodeo demonstrations,
camp fire entertainment and even a helicopter flight. Try your luck in one of the casinos or see a headline act in Vegas and
sample the buzz of LA. Round off your holiday on a relaxing Pacific Coast cruise to the beaches of the Mexican Riviera.
Capture the spirit of the American West and experience
centuries-old traditions of the American Cowboy. Learn
about the plight of the Buffalo, Red Indians and the
Mormon Wagon Train pioneers, all in the shadow of
breathtaking Spirit Mountain and North Arizona wild-west
scenery. Savour authentic western cuisine while basking in
the glow of an open fire and candlelit tables in the historic
ranch house; then experience some true old-fashioned
western hospitality in the Diamond Bar. Relax in the privacy
of your en-suite pine cabin or join the ranch cowboys in
some rousing campfire songs under an amazing canopy
of stars.
Cabo San Lucas, Mexico: One of the premier resort
destinations in the Western Hemisphere, Cabo San Lucas
- or "Cabo" - is known for its pristine white sandy beaches
and beautiful transparent waters that offer some of the
best snorkelling in the Mexican Riviera.
Mazatlan, Mexico: The Colonial City on the beach! Enjoy
the rich art and culture of this city that was founded in the
1500´s, and still preserves most of its historic buildings in
the original architectural style. This 'Pearl of the Pacific'
has breathed new life into its historic centre, resulting in a
wonderful colonial old town district only a short walk from
a 20km-long crescent of sandy beach. There are a number
of small museums and lots of boutiques.
Puerto Vallarta, Mexico: This wonderful beach destination
is surrounded by the impressive mountains of the
Sierra Madre and the sparkling waters of Banderas Bay.
Los Muertos beach is located next to the Old Town and
is a wonderful place to watch the sun set. Here you will
find a variety of restaurants, bars, galleries, boutiques and
souvenir shops. Las Gemelas are a pair of small beaches
distinguished by their fine white sand, clear blue water
and gentle onshore waves ideal for swimming, snorkeling,
kayaking, walking and sunbathing under a cluster of palm
trees. Perhaps climb the rocks that divide the beaches and
wade through the rock pools to spot crabs and minnows.
Los Arcos National Marine Park is situated next to Las
Gemelas where there are further opportunities to boat,
snorkel, or Scuba-dive through the deep tunnels, caves,
colorful reefs and arches of these amazing islands.
ITINERARY 1:
Long Beach - Cabo San Lucas - Mazatlan - Puerto Vallarta -
Long Beach (Los Angeles).
ITINERARY 2:
Long Beach - Cabo San Lucas (overnight in port onboard) -
Puerto Vallarta - Long Beach (Los Angeles).
LAS VEGAS, GRAND CANYON RANCH
& PACIFIC BEACHES
Carnival Miracle / Carnival Splendor • 14 Nights • August 2017-April 2018 • Prices from £1799pp
Grand Canyon Helicopter Flight
Regional flight departures available at a supplement from
Manchester, Glasgow, Newcastle, Birmingham & Cardiff