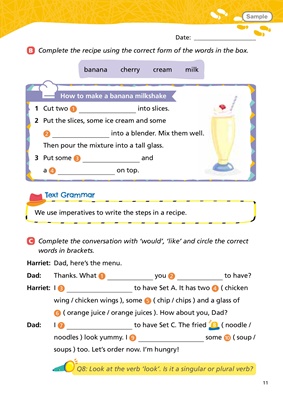 B Complete the recipe using the correct form of the words in the box.
C Complete the conversation with 'would', 'like' and circle the correct
words in brackets.
banana cherry cream milk
We use imperatives to write the steps in a recipe.
Harriet: Dad, here's the menu.
Dad: Thanks. What 1  you 2  to have?
Harriet: I 3  to have Set A. It has two 4 ( chicken
wing / chicken wings ), some 5 ( chip / chips ) and a glass of
6 ( orange juice / orange juices ). How about you, Dad?
Dad: I 7  to have Set C. The fried 8 ( noodle /
noodles ) look yummy. I 9  some A ( soup /
soups ) too. Let's order now. I'm hungry!
Q8: Look at the verb 'look'. Is it a singular or plural verb?
How to make a banana milkshake
1 Cut two 1  into slices.
2 Put the slices, some ice cream and some
2  into a blender. Mix them well.
Then pour the mixture into a tall glass.
3 Put some 3  and
a 4  on top.
Text Gra�ar
11
Date: ____________________
Sample