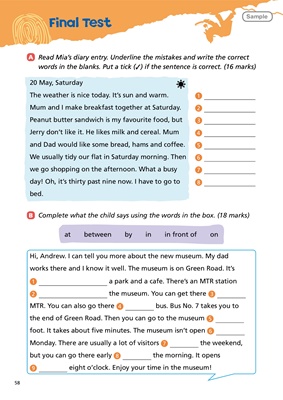 Final Test
A Read Mia's diary entry. Underline the mistakes and write the correct
words in the blanks. Put a tick (✓) if the sentence is correct. (16 marks)
A Read Mia's diary entry. Underline the mistakes and write the correct
words in the blanks. Put a tick (✓) if the sentence is correct. (16 marks)
B Complete what the child says using the words in the box. (18 marks)
20 May, Saturday
The weather is nice today. It's sun and warm.
Mum and I make breakfast together at Saturday.
Peanut butter sandwich is my favourite food, but
Jerry don't like it. He likes milk and cereal. Mum
and Dad would like some bread, hams and coffee.
We usually tidy our flat in Saturday morning. Then
we go shopping on the afternoon. What a busy
day! Oh, it's thirty past nine now. I have to go to
bed.
1
2
3
4
5
6
7
8
at between by in in front of on
Hi, Andrew. I can tell you more about the new museum. My dad
works there and I know it well. The museum is on Green Road. It's
1 a park and a cafe. There's an MTR station
2 the museum. You can get there 3
MTR. You can also go there 4 bus. Bus No. 7 takes you to
the end of Green Road. Then you can go to the museum 5
foot. It takes about five minutes. The museum isn't open 6
Monday. There are usually a lot of visitors 7 the weekend,
but you can go there early 8 the morning. It opens
9 eight o'clock. Enjoy your time in the museum!
58
Sample