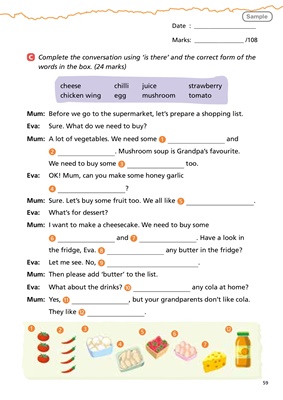 C Complete the conversation using 'is there' and the correct form of the
words in the box. (24 marks)
cheese chilli juice strawberry
chicken wing egg mushroom tomato
Mum: Before we go to the supermarket, let's prepare a shopping list.
Eva: Sure. What do we need to buy?
Mum: A lot of vegetables. We need some 1 and
2 . Mushroom soup is Grandpa's favourite.
We need to buy some 3 too.
Eva: OK! Mum, can you make some honey garlic
4 ?
Mum: Sure. Let's buy some fruit too. We all like 5 .
Eva: What's for dessert?
Mum: I want to make a cheesecake. We need to buy some
6 and 7 . Have a look in
the fridge, Eva. 8 any butter in the fridge?
Eva: Let me see. No, 9 .
Mum: Then please add 'butter' to the list.
Eva: What about the drinks? A any cola at home?
Mum: Yes, B , but your grandparents don't like cola.
They like C .
1 2 3
4
5 6
7
C
59
Sample
Date : ____________________
Marks: ________________ /108