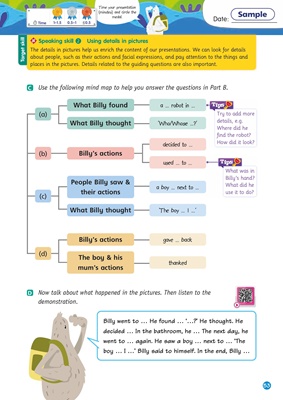 53
Date:
53
53
(a)
(b)
(c)
(d)
Time your presentation
(minutes) and circle the
medal.
1-1.5
Time 0.5-1 0.5
C Use the following mind map to help you answer the questions in Part B.
Speaking skill 2 Using details in pictures
The details in pictures help us enrich the content of our presentations. We can look for details
about people, such as their actions and facial expressions, and pay attention to the things and
places in the pictures. Details related to the guiding questions are also important.
Billy went to … He found … '…?' He thought. He
decided … In the bathroom, he … The next day, he
went to … again. He saw a boy … next to … 'The
boy … I …' Billy said to himself. In the end, Billy …
D Now talk about what happened in the pictures. Then listen to the
demonstration.
Try to add more
details, e.g.
Where did he
find the robot?
How did it look?
Tips What was in
Billy's hand?
What did he
use it to do?
Tips
a … robot in …
'Who/Whose …?'
decided to …
used … to …
a boy … next to …
'The boy … I …'
gave … back
thanked
What Billy found
What Billy thought
Billy's actions
People Billy saw &
their actions
What Billy thought
Billy's actions
The boy & his
mum's actions
Sample